Watch The Spice Girls Absolutely Destroy A 'Chauvinistic Pig' Director In This 1997 Outtake
by Liz Henry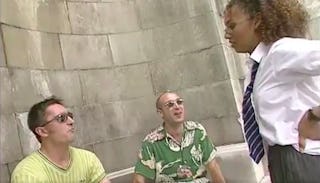 Twitter.com/I_Dont_Know_Her
Back in 1997 I had a tiny metallic backpack and spent my nights hanging out at the mall with a Spice Girls lollipop in my hand. The lollipops came with a sticker of Ginger, Posh, Scary, Sporty or Baby and they were all over my folders and books—I think I even had a few on my wall.
The Spice Girls, at the time, were outselling the Beatles and their pop-infused brand of feminism was so infectious, the group became a phenomena built around "Girl Power," platform shoes, and getting with one's friends. Due to their popularity, The Spices promoted products and even released a movie, Spice World—which, quite frankly, is a masterpiece—and apparently found the time to destroy sexism on commercial sets.
In a resurfaced outtake from a commercial shoot for a Spice Girls-themed Polaroid camera, Spicecam, Melanie Brown and her bandmates fight back against a request for more "cleavage shots" and "midriff shots" by some guy working on the set. The guy, when asked why he requested these shots replies,"It's every man's fantasy. That's showbiz."
When Brown refuses to comply with the "chauvinistic pig" request, she's joined first by Geri Halliwell and then the other Spice Girls in a show, no shocker here, of real girl power. Victoria Beckham (then Adams) even yanks the man's sunglasses from his face. "Stop trying to look cool," she quips.
Maybe you're saying, "But the Spice Girls sold themselves on bare midriffs and cleavage." On their terms, though. There is a difference between wearing what you want as "girl power" and selling girl power cloaked in "every man's fantasy" to young girls. The Spice Girls clearly knew the difference and didn't play nice. Halliwell even responds to the guy on set, "What kind of message would that send?"
The Spice Girls, in all their simplistic, campy ways, clearly understood and then doubled down on the message they were sending: girls have value, women have value, and it has nothing to do with the guys. "Girl power" for them was something they sang about and then practiced behind the scenes. Teenage me is proud of them. Hell, right now me is proud of them, too.
Hindsight is always 20/20 but this on-set exchange should have been the Polaroid commercial instead of the very weird, very noir one they ended up with that included a vomiting nun, operatic overtones and The Spices getting kicked out of Catholic school during a rainstorm.
This article was originally published on