Wayne Brady And Ex-Wife Mandie Taketa Are Literally Co-Parenting Goals
by Amy B. Chesler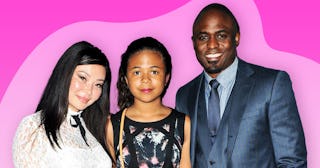 Scary Mommy and Allen Berezovsky/Getty
When I won a car from Wayne Brady on Let's Make a Deal in 2011, I had no idea that the vehicle would not be the most valuable thing I would ever gain from the iconic television and Broadway personality. But after following his ex-wife (Mandie Taketa) and him on social media for years, it's become clear the greatest gift Wayne Brady has bestowed upon me (and the world) is his co-parenting wisdom. And anyone who's experienced divorce and the challenge of co-parenting with an ex-partner, knows that any perspective that helps you more effectively navigate those waters is invaluable.
Wayne and Mandie split in 2006 and were legally divorced by 2008. However, they admit they kept on good terms in order to raise their daughter Maile together. When asked about the secret to what many people call an 'inspirational' divorce, Wayne admits in an early-2021 Entertainment Tonight interview that it's all about "work." He goes on to share that it helps if you still have love for your ex-partner, but in essence, it just takes a mutual commitment to work through the difficulties as a team.
As 2021 developed, and the ex-couple shared more about their journey together and apart, Wayne and his family brought a whole new meaning to the word "work."
First of all, their TikToks and Instagram reels are pure fire. One of the things that got me through COVID isolation, especially when my kiddos were with their dad, were the family videos Mandie, Wayne, Maile, and Mandie's partner, Jason Michael Fordham, made as a dance crew. It's true, I've never seen a more talented bunch, but the seemingly peaceful union they show as a clan is even more amazing. You can tell, no matter how much effort it took to get the routine right, they were invested and willing to work to make it happen as a team.
As if cute dance videos weren't enough, Wayne then announced that the family wasn't just hanging out to make reels. They were living together amidst COVID to survive a questionable, crazy time. They leaned on and supported each other through Maile's high school graduation and transition to college, which happened to occur all amidst the last two years. Wayne went on to share in a number of interviews that their joint struggles and shared experiences make them a family. It might have a unique structure, but they're still a family.
But then, Mandie and Jason started sharing about their adoption journey, and I was a puddle of pure co-parenting tears. The couple shared a video that included a 'thank you' to little Sunny's birth mother, and the joy that both mother and father felt in it was clear and contagious. And their pictures of little man? Gorgeous. He's honestly just the sweetest/cutest baby ever (and I've got two of my own,).
And thennnn, Wayne Brady posted a tribute to little Sunny, too. In it he announced his title of 'Duncle,' an endearing combo of dad-uncle. The title is meant to imply his plan to help raise Mandie and Jason's son, too. COME ON, is that not the sweetest, most supportive thing ever?
Quite literally co-parenting goals, amiright?
I mean, we all know it takes a village to raise children. The moment they plop our little butterballs in to our arms in the hospital, we've already got questions and concerns, no matter what number child it is for us. The right support can carry us through nearly any challenge from that first day on. That's the village everyone is always talking about, and I think it's magical when two parents, who realize they can no longer be together romantically, can still work together platonically to support their kids.
It's clearly even more magical when exes can also still support each other through the difficult processes life presents. Just because a marriage is over, doesn't mean a wish for well-being has to end. And let's be real: parenting isn't an eighteen-year gig. It's a commitment that lasts a lifetime. So, even if a marriage can't last that long, the vow to watch out for your co-parent's well-being and best interest can. That way you're ensuring your child(ren) have the healthiest, happiest parents possible. And we all know that generally translates to a more peaceful home life most of the time as well. So, maybe if Wayne and Mandie can do it, my ex and I can, too.
This article was originally published on