4 Reasons Weekends Suck When You Have Kids
by Jenifer DeMattia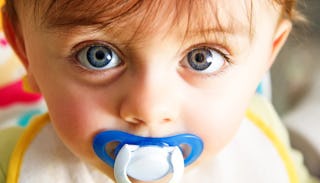 Let me begin by clarifying that children do not suck. However, they do happen to suck the life out of what used to be referred to as a weekend. How quickly the tide turns when you have kids. The problem is that the weekend still means excitement awaits, responsibilities are put on hold, and fun is waiting to be had just like the old days; however, that's because the kids stole it right out from under us and that mentality now applies to them. So after two children and countless weekends spent in their company, here are a few observations on how the weekends have changed:
1. You're not as fun as you used to be. Hmm..I think I'll choose to blame Facebook for this one. After a long week of running the mom marathon I feel okay with a little Saturday morning cartoon watching, pajama wearing, and delayed teeth brushing, until I fire up Facebook. Seems like everyone I know is posing with his or her kids at Disney World. Families have picked strawberries, gone for ice cream, and frolicked at the park with the ducks before I have fed everyone breakfast. Suddenly the TV is off, and so are the kids and I to find an adventure. Or perhaps, at least, get dressed.
2. Getting "Crazy" has a whole new meaning. As parents we are told to put our children first. What we realize quickly is that we must put them first in order to maintain our sanity. So this has to explain why we fill up our weekend calendars with birthday parties, soccer practice, swim meets, and playdates. Just when you get excited to spend quality time with the kids, you find yourself crammed in the house with your oldest, "I'm bored," and his faithful sidekick, "more Caillou." It's more about how to wear the kids out so they don't make you insane. And man, if you can catch Dateline on time and not pass out right before you find out who did it, you think, "Damn, that was crazy!"
3. The term "getting wasted" exclusively refers to all the food you throw away. Raising the future of the world is no easy task. And neither is raising ourselves. We are all a work in progress and the weekend used to be a time to take it easy, reflect, and regroup for the week ahead. In other words, I used to really enjoy liquor before I had my kids. And this time of reflection was quite cleansing and often done in public settings with good friends. The side effects included uncontrollable laughter and increased tendency towards fun, to be followed up the next morning by an activity known as sleeping in and then showering. Now, forget drinking. If I can get through an evening with adults without a phone call stating the kid simultaneously sneezed, pooped his pants, and threw up, well then, it's a pretty good night.
4. You realize there is really no such thing as a weekend. Even before children the complaint was the same. The weekends are just too damn short. But after you have children, you can't really justify your week ending, so the word is really not appropriate. Not only are you shuttling them around to practices and parties, but weekend time now also requires the grueling task of preparing for the upcoming week and all the impending madness. You find your day consumed with child projects, and it becomes like the huddle mid-game. Weekends are for a family to get together and figure out how to drown out the noise in order to strategize. And the team captain, aka mom, somehow keeps them in the game.
Related post: The Cry of the Early Rising Parent
This article was originally published on