This Sleek Air Purifier Will Help You Breathe Easier This Summer — & It's On Sale Now
Score this essential home item for 39% off while the deal lasts.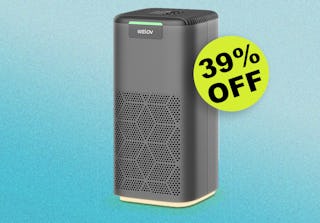 We may receive a portion of sales if you purchase a product through a link in this article.
It feels like if there was ever a time to incorporate an air purifier into your home, it's now. Canadian wildfires continue to rage and cause record-breaking amounts of destruction, leading to unhealthy air quality across large swaths of the United States. Not surprisingly, air purifiers are having a bit of a moment, and WELOV — an innovative brand known for its stylish smart home appliances — has highly efficient air purifiers that are the perfect marriage of form and function. And right now the WELOV 200S Air Purifier is 39% off on Amazon.
Fast Facts
Filter System: Medical-grade H13 HEPA filter
Stats: Removes 99.97% of ultra-fine particles of 0.1 microns and works on smoke, odors, pet hair and dander, pollen, dust, and more.
Coverage Area: 1,077 Square Feet
Dimensions: 11 x 11 x 21 inches (L x W x H)
Available Colors: Gray, White
Notable Features: Realtime readings of current air quality, timer function, whisper-quiet operation, adjustable nightlight, Energy Star-certified
WELOV Air Purifiers Are HEPA-Certified
HEPA filters are the gold standard of air filtration. A HEPA filter, or high efficiency particulate air (filter), is defined by the U.S. Environmental Protection Agency as one that can "remove at least 99.97% of dust, pollen, mold, bacteria, and any airborne particles with a size of 0.3 microns." In other words, you should absolutely stick with a HEPA air purifier if you want to ensure your air is being adequately purified. And WELOV's P200S Air Purifier comes with a true HEPA filter.
More About The P200S Air Purifier
In just 30 minutes, WELOV's P200S Air Purifier can clean the air quality in a 1,077 square foot room, changing the air two times every hour. And it cleans the air in a 431 square foot room in only 12 minutes. Designed for pet owners, those with allergies, and for anyone who wants to breathe clean air, the P200S is especially good at filtering smoke, pet hair and dander, odors, pollen, and dust. You don't have to worry about tinkering with the controls, because the air purifier has an auto setting that tracks indoor air quality and automatically adjusts the fan speed to maintain clean air at all times. If the data is important to you, you can see how clean or dirty your home's air quality is via the device's realtime LED display.
Something unique about the P200S is its super quiet sleep mode. As the air purifier continues to do its job overnight (or while you're taking a nap), its 23 decibels is even quieter than a whisper. The device also features an optional and adjustable night light, which is perfect for a child's room or any room at night that could use some illumination. There's also a timer that you can set from 1 to 12 hours for coverage when you need it.
What Fans Are Saying
"Very nice filter. This is a smart device, it measures the amount of incoming air particulate and adjusts the operating level accordingly. No more constant running once the air is cleaned, it goes to low mode [until] more stuff gets in the air. Sweet. Really easy to use, read the info then set it on automatic and forget about it. [...]" -Russtiffer
"I really like this unit. It is easy to move around, easy to work, and a nice design. It is quiet especially on sleep mode. Filter is easy to change. I would like to purchase another one for the bedroom." -Spyke
"I love that it shows how bad the air quality is and has a green or red light indicator, it seems to help with the dust and air quality around the apartment." - Cory Wesner
"I recommend this air purifier for home use at an affordable price! I purchased this air purifier for the purpose of eliminating so much dust from our house. WELOV worked well in purifying the air. After a few days of use, we noticed a great improvement in the air, and the dust and dander was drastically reduced! What's more, it has a safety lock to prevent accidental touching. I have an energetic and active baby, and I feel really reassured by having this air purifier!" -Jensen Thayer
A Convenient Bonus — WELOV Connects To AiDot
WELOV is part of AiDot, a smart home platform that connects devices across brands and ecosystems. So, a WELOV air purifier can be controlled from anywhere in your home using the AiDot app, which can also be used to control and create automation with other smart devices in your home, like lights, switches, outlets, cameras, and household appliances. Of course, you don't have to connect the air purifier to AiDot, but it's available for those times you forget to turn it on but are already cozy in your bed. We've all been there.
This article was originally published on