What the Hell Did I Do With My 20s?
by Jordan Rosenfeld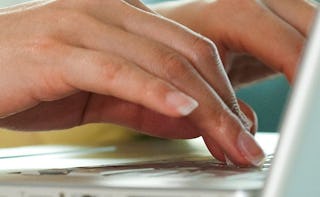 I've always considered myself fairly ambitious—juggling jobs and freelance projects, and fiction writing in the wee hours to achieve my goals, and as of seven years ago, becoming a mother, too. I've published a few books with small or trade presses and hundreds of articles. I've been paid to speak at conferences. Not bad for 40, though my dreams of being a working novelist or a magazine writer have still not come to pass.
Then I turned 40 last year, and the bubble began to crumble when I realized that I was now officially too old for the "Top Writers Under 40" award, not to mention the "Five Under 35." To add insult to ego injury, I recently made the acquaintance of dozens of twentysomething professionals through a networking group. These amazing young women seemed to have had a career plan in place straight out of the womb; they have published in places I've been dreaming of since I was ten—The New Yorker, The Paris Review. They hold executive positions at big media companies, and have worked on nationally known and beloved television programs. These young women have several college degrees, personal assistants and publicists. They are running the world, and will be for decades to come.
Suddenly, my decision not to go to journalism grad school or live in New York in my 20s felt like a terrible mistake. I found myself waking up in a cold sweat wondering: "What next?" Though I'm still working hard as a writer, I have that dazed sensation of some crucial career juncture having passed me by.
Am I having a midlife crisis? While other women my age might fantasize about a young lover, I dream of the sweet hug of a tiny apartment overlooking New York's East Village, just me and sensuous silence. In luxurious socks, I pad across my hardwood floor, pacing to catch the muse for my next book or "longform" feature. Friends stop by after hours with bottles of wine they can barely afford and we eat garlic-stuffed olives and boutique hummus while discussing intersectionality and poetry.
Like all fantasies, it's flimsy and full of holes—I mean, who could afford an apartment in the East Village with hardwood floors, much less hummus? And ultimately, more than a decade of freelance writing has taught me that even ideal work comes with stress.
Maybe I didn't waste my 20s after all. I read voraciously. I wrote a lot of crappy words in a lot of cheap notebooks. I took any class I could afford on my meager income—in the living rooms and granny sheds of aspiring writers. I volunteer-produced a literary radio show. I volunteer-led a literary salon, inviting local authors to read. I lived a creative life even though it hasn't led to wealth or fame.
The truth is, most people I know, especially other fortysomethings, did not follow one simple proscribed path to career fulfillment. I was born and raised in Northern California, too, land of "finding yourself" through one or more New Age methods, ranging from couch-surfing travels to shamanic initiations in the desert. I've been led by my joy more than obligation, and while it definitely didn't set me up as a media maven, it has provided a life of meaning.
What's more, if I'd taken that other path there would be no wonderful 7-year-old boy constantly opening my eyes to the nuances of life—pointing me to the tiniest of flowering buds on a hiking trail and reminding me that "we are all made of the universe." There would be no steadfast, communicative husband who has always championed me toward my writing even when it meant I made no money or flew to Vermont twice a year for a low-residency MFA program.
If I'd taken that other path in my 20s, I might be like so many other people struggling to survive in the increasingly pricey landscape of a big city, sitting buried beneath one version of success only to crave another, quieter version, one that looks an awful lot like the one I have now: in my modest house, in a bucolic town with a small community, with enough small success I earned without driving myself into the ground.
This article was originally published on