Why Do Kids Suck At Sleepovers So Much?
by Rachael Pavlik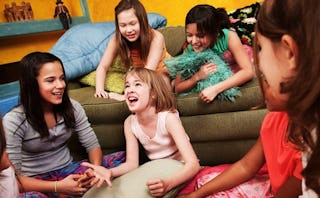 I love my children. I really do. I cherish our time together. They are delightful little darlings and the light of my life and if they don't leave me the hell alone, I'm gonna light myself on fire and stroll into oncoming traffic. I need a break from all the cherishing of the moments sometimes. Sure, we have a great babysitter for date night (remember date night?), but she's always booked and charges $15 an hour. Hiring her for any extended period usually involves some forethought and a GoFundMe campaign. That's why when the planets align and Oprah smiles upon my vision board, a magical, mythical thing can occur: Both of my children are invited to a sleepover! On the same night!
Happy dance! It's a rare parenting win.
But who am I kidding? My joy is always short-lived, because my kids suck at sleepovers. Don't tell them I said that, but they do. Oh, they do great overnight with the grandparents, who ply them with gifts and snuggles. But with friends … not so much. They suck at it and they are way too old to suck at it. They inevitably call to come back home, late in the night. First, the texts start trickling in. Their timing is impeccable—it's almost like they can sense our happiness.
Usually we are in the middle of dinner, boozing it up, laughing with friends at a restaurant. A restaurant with tablecloths. God, how I miss tablecloths. Or laughing at a grown-up, profanity-laced movie. Or laughing and naked and covered in sensual oils NEVER MIND THE DETAILS THE POINT IS THEY RUIN ALL GROWN-UP-ALONE-FUN-TIME ACTIVITIES AND TABLECLOTHS AND LAUGHTER IN GENERAL, IS WHAT I'M SAYING.
Here's how it starts; they get invited to a sleepover or slumber party, they say they "really really want to gooo, and this time will be different pleeeaase…" and we fall for it. We're all very excited. Yay! I pack them up, drop them off with their friend and they bolt out of the car, rushing into the house with not so much as a wave goodbye. Yay! I smile and chat and pledge my eternal gratitude to the host parents and try not to leave skid marks in their driveway getting the hell out of there. Yay! Freedom! What should we do first? We can try that new Thai restaurant! We can go to Ikea! We can get naked, and…
Not so fast, sister.
As soon as darkness falls, this starts up:
IGNORE. IGNORE THE SAD EMOJI. DO NOT ENGAGE.
IT'S A TRAP. SHE IS FINE. THERE IS NO TUMMY HURTING.
Plus, it's really difficult to text back when your hands are slick with sensual oils. I've heard.
I manage a few terse sentences back, then I feel guilty and ask her what she ate and tell her to go drink some water. AND GOODNIGHT. The tummy ache is bullshit anyway, because she immediately changes tactics:
Sigh.
And God forbid there is an actual slumber party, as in, multiple girls. Forget it. For whenever two or more are gathered, there is DRAMZ. Your little angel is never, ever involved in this drama, of course. Oh, no. It's those other bitches, I'm sure.
A group of cats is called a "clowder," and I'm pretty sure a group of girls at a slumber party is called a "tweenwreck."
I hate slumber parties.
But this sleepover-fail stuff is not just for girls around here. My son does it, too. He gets a bit more creative.
"I forgot my charger"
"I've got a weird rash"
IGNORE. IGNORE HIM. SOUP IS DELICIOUS AND SO GOOD FOR YOU. WAIT, WHAT KIND OF SOUP? DON'T ASK. IT WILL ONLY ENCOURAGE HIM.
So it goes on like that for a while until they admit they really want to come home. One of us caves (usually my spouse), puts his clothes back on and angrily stomps to the car. He retrieves our child(ren) and apologizes to the groggy parents. Sorry our kids suck, groggy parents.
Night: ruined. Grrrrr.
In front of the kids, we always act like, "eh, it's not that big of a deal…"
GODDAMMIT.
We tell them they "can always call or text to come home; we won't be mad…"
SO MAD.
SHIT. SHIT. SHIT.
For now, we've put the kibosh on all real sleepovers, opting instead for an "almost sleepover." A late-night play date with a scheduled pick up at 9:30 p.m. No more sleepovers until further notice, even though they KEEP ASKING TO DO IT. We've had the long talks about WHY this keeps happening and is there anything that would help make them comfortable, anything they need to tell us, but they seem ambivalent.
Maybe my little clingers don't really suck; they are just not ready. Maybe they've decided there's no place like home.
How can we be mad at that?
This article was originally published on