Stepparent Love Is A Different Kind Of Love
by Emily Horton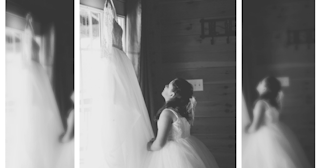 Rae of Light Photography Works
When my husband and I found out we were expecting, he had one main fear — that I wouldn't love his then six-year-old (my stepdaughter) as if she was my own. I wouldn't love her "the same" as I loved my son.
And he was right, I wouldn't.
To him, this meant that I would love her less. That there would be an enormous disconnect between siblings and that I would treat them differently. But what he didn't understand, what one cannot possibly understand until they are raising another woman's daughter alongside their own flesh and blood, is that stepparent love is not a lesser love. Stepparent love is a different love.
And so, my dear stepdaughter, I'll try to explain it to you in a way that you may one day read and understand.
When we first became a family, you already had six years of life behind you. I didn't witness your first steps, I didn't feed you your first solids or give you your first bath. I didn't cry when you were born, and I didn't get to hug your daddy and admire what a beautiful little baby you were in the hospital room after having you cut from my body during an emergency c-section.
But, more importantly, you weren't raised to tell me you love me. You weren't raised to respect me as your parent, or to treat me as a mother, or to hug me goodnight, or to miss me when I wasn't there, just as I didn't get my first practice tucking you in until you were six-years-old. And while these may be reasons my love for you is different than the love I have for your brother, they are the very things that make our relationship even more special.
You chose to love me. You picked me, and I picked you. When you tell me you love me, you mean it. Because you don't have to love me. When I tell you I love you, it's not because I saw you take your first breath or feel you kick and grow within me for nine months. My love for you was not instilled in me. It's because I've gotten to know you, because we've shared nearly three years of life together growing as a family, and I truly love you and the person that you are.
Without you, your daddy wouldn't be the man I love and married. You changed him, long before I ever came along. Long before your brother was even a sparkle in our eyes. Watching your daddy raise you has been an honor and a blessing and is undoubtedly part of the reason I fell in love with him.
Without you, your brother wouldn't squeal with happiness every afternoon when it's time for school to let out. I'd know nothing about Five Nights at Freddy's, or Minecraft, or how to unconditionally love another woman's child. My son wouldn't have a funny, witty, creative and helpful big sister to learn from and admire.
Without you, our family wouldn't be a family.
And so, my dear stepdaughter, my love for you may be different, but it's no less of a love. I may never be your mother, but I will always be your stepmother, and that's a pretty important role to fill. I will continue to watch you grow and thrive, to support you in your every endeavor, to cheer you on in any sport or hobby you wish to pursue, and to be there for you any and every time you need me. I will tuck you in at night, I will bring you one more sip of water when you can't sleep, I will brush the tangles out of your hair when you need help, and I will hold you when you need a little extra love. You are special, and you are mine…and I would choose you over and over again.
We are Scary Mommies, millions of unique women, united by motherhood. We are scary, and we are proud. But Scary Mommies are more than "just" mothers; we are partners (and ex-partners,) daughters, sisters, friends… and we need a space to talk about things other than the kids. So check out our Scary Mommy It's Personal Facebook page. And if your kids are out of diapers and daycare, our Scary Mommy Tweens & Teens Facebook pageis here to help parents survive the tween and teen years (aka, the scariest of them all.)
This article was originally published on