No, I Won't Be 'Upgrading' My Wedding Ring
by Ashley Austrew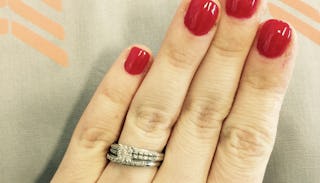 A fed-up mom shared a powerful post in defense of small wedding rings
A good marriage has nothing to do with the size of your ring, but unfortunately not everyone sees it that way. Engagement rings and wedding bands are a status symbol for some, and if you happen to have a small stone or opt for something non-traditional, there's often no end to the rude comments you'll get. One Minnesota woman was tired of family and friends asking when she plans on "upgrading" her modest ring, and that's why she fired back in a powerful post that will have women everywhere nodding along.
Rachel Pedersen is a mother of two who recently shared a photo on Facebook of her "less than 1/4 carat ring" and says she's frustrated by the rude things people say about it. She writes, "Friends and family often ask me when I'm going to have it 'upgraded'…. After all, it doesn't represent the level of success we are achieving. I've even had one person say, 'You could wear a bigger ring for important events, so people don't think you're not successful.'"
Like most sensible people, Pedersen realizes that her ring isn't meant to be a status symbol. She asks, "Since when did the size of someone's ring become an indication of success? For me, the ring is SO much more. My ring symbolizes a whirlwind, storybook, 'make you sick' love story."
Pedersen explains she and her husband met at a diner, fell in love, and got married all in the span of two weeks. "He worked as a window washer, and I was a single mother," she writes. "We couldn't wait for the future. So we didn't. 13 days after meeting, we eloped. I didn't even THINK about a ring until my husband surprised me before the ceremony. He drained his savings to gift me with a small token of his love."
If you've got a big ring or you've never had the displeasure of being around people who are rude enough to comment on the size of your jewelry, it might be hard to believe that this actually happens — but it does. I'm living proof. Like Pedersen, my husband and I got married shortly after meeting. We didn't have a lot money, but we also just don't care much for fancy things, so we found a craftsmen on Etsy who made us two matching titanium bands for less than $100.
Judging by the reactions I get to my ring, you'd think wearing a plain metal wedding band is the equivalent of stealing money from a charity on Christmas. People in my family act like my ring is a sin and constantly ask when I'm getting my "real" one. I've even had strangers tell me they didn't realize I was married since I'm "not wearing a ring" — apparently, a woman's wedding ring doesn't exist at all unless it's covered in diamonds.
Like Pederson, I have no plans to "upgrade" my ring. It holds deep, personal significance for me, and I see no reason why I should apologize for something I love so much. There's nothing wrong with wanting a big, fancy ring, but that's not everyone's cup of tea, and no one should be made to feel inadequate for something as insignificant as the size of a diamond. Jewelry is fun, but real success is a healthy relationship with the person you're committed to — that has nothing to do with the kind of ring on your finger.
This article was originally published on