When You Have To Choose Between Your Family And Your Job
by A.M. Thompson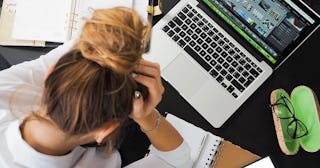 energepic.com/Pexels
I interviewed for my dream job in the summer of 2018. I wore a bright purple blouse and sleek black pants, a low-hanging necklace and sparkly earrings, and a cute pair of kitten heels. The latter clacked on the concrete as I walked past Penn Station. The day was perfect. The weather was perfect, and my interview couldn't have gone any better: after 90 minutes, I had "terms."
I was offered the job on the spot.
I happily accepted. My daughter had just turned five and was about to enter Kindergarten. She would be cared for six hours a day, five days a week and, as such, the timing was right. This mama was ready to go back to work. But less than a year later, I was forced to make a hard decision — a tough decision — when I quit.
I resigned from my big city job.
The reasons are numerous and complex, though the most pressing matter was my unexpected pregnancy. Three days after my interview, I learned I was expecting. I was carrying our second child: my sweet baby boy. And while I was able to take three months paid maternity leave — something which is unheard of in the good ol' US of A — my return was challenging. My hours were inflexible. My commute was unbearable. (Most days, I spent three hours plus on a bus.) And despite the fact that I could do my job remotely, working from home was not an option.
My employer simply said "no."
Childcare was (well, is) ridiculously expensive. A nearby facility told me my son's tuition would be $1,700 a month. As such, keeping my job became unrealistic. It became a burden, taking a physical and financial toll.
But my decision to leave work wasn't solely about time or money. You see, shortly after the birth of my son, I became anxious. Extremely anxious. I was hyper fixated on "what ifs," i.e. what if my baby stopped eating? What if my baby stopped breathing, and what if I was in an accident? What if I failed him, as his provider and mom?
I became stuck in a constant state of motion. I was always thinking, overthinking, moving or otherwise putzing about. My mind raced. My legs bounced. My hands shook, and I couldn't sit still. And the thought of leaving him at just 12 weeks? It made me ill.
I couldn't eat. I couldn't sleep. I cried for days on end.
I was also consumed by intrusive thoughts. Every time I closed my eyes I saw blood, blue limbs, and body parts. I often envisioned my son in his crib, his body still. He would be unable to wake up.
The good news is it didn't take me long to recognize things were off. I spoke out. I reached out, and I got help a few weeks after giving birth, but breastfeeding kept me from the medication I truly needed and juggling my mental health issues with work and family simply became too much. Something needed to give … and it was my job.
Of course, my struggles with postpartum anxiety are not unique, and I am not alone: 10 percent of all mothers have PPA, PPD, or another perinatal mood disorder. However, many cannot (or do not) get help. Millions of Americans remain uninsured, and even those that who are insured struggle to find quality providers.
Postpartum financial difficulties are also quite common. According to Lean In, "43% of highly qualified women with children are leaving careers or off-ramping for a period of time" due — in part — to the high cost of child care. (A 2018 study found that the rising cost of child care resulted in an estimated 13 percent decline in the employment of mothers with children under age five.) And the nation's failure to implement policies that support parents — such as flexible hours, accessible child care, and/or paid family leave — only exacerbates the problem.
Don't believe me? Believe the facts: a 2015 report by Ellie Gould and Tanyell Cooke found that when mothers had assistance in these areas, they were more productive, active members of the workforce. But these issues are also a catch-22, because while some women leave their jobs because they cannot afford to keep them, others stay because they cannot afford to leave them.
In short, the system is broken … and it sucks.
Make no mistake: I am thankful for the time I am able to spend with my children. I am looking forward to a summer full of picnics and play dates and afternoons spent lazing by the pool. I'm also not complaining about all the trips my daughter and I have taken to Baskin Robbins, through my jeans may be. But the fact that I had to make a choice — this choice — is crap.
It is complete and utter bullshit.
And employers can do be better. Our healthcare system can do better and, as a society, we have to do better. It's time we do more.
This article was originally published on