This List Of Young Adult Books All Feature Black Main Characters And Are Written By Black Authors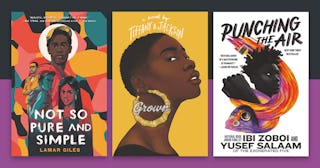 Scary Mommy and Bookshop
The number of young adult books for teens has grown leaps and bounds in the last ten years, and the number of young adult books written by Black authors is still growing. In the last four years or so, we've seen Black authors really making strides with books for teens. And while many of them still focus on the struggles of being Black, especially in America, things are starting to change. Black teens aren't a monolith, and just like other teens, they deserve to have a wide array of stories told about them.
As we always say, representation matters. Black teens seeing themselves as the center of a love story is important. Same with fantasy or science fiction. But it goes beyond Black teens being able to see themselves in young adult books. Teens of other races reading books with Black main characters by Black authors will have a better understanding of the Black experience, and hopefully become more empathetic. This list is by no means exhaustive, but it's a good introduction to new young adult books.
It's Torrey's first day as a college freshman, and he may have to stop before he even gets to start. His bee farm—the one left to him by his uncle Miles, who died tragically—is being foreclosed on. Though he would love nothing more than to leave it all behind, he feels compelled to fight for it. In between trying to pick a major and texting with Gabriel, the first boy he ever kissed, he has to fight to preserve his uncle's legacy. Soon it all gets to be too much, and he has to choose between his family and himself.
Cleo and Layla used to be best friends, but then their friendship imploded. Now Cleo is painfully aware they'll never be friends again. So Cleo wants to erase every memory of Layla she has. Unfortunately for Cleo, she has to tutor Layla. Even though she's finally making new friends and has a budding potential relationship, her past with Layla comes back to haunt them both.
Del has had a crush on Kiera since kindergarten. Now it's junior year, and she's finally available. So when she volunteers for an opportunity at their church, Del rushes to sign up. But then he finds out what he's signed up for… a Purity Pledge. His dad and best friend think he's crazy, but Del's too close to getting the girl to drop out now. He enlists the help of fellow pledger Jameer — he just has to answer the other pledgers' questions about sex ed. Despite all his planning, Del forgets to think about what Keira wants. But that'll all work itself once he wins, right?
Enchanted Jones is an aspiring singer. She's struggling with her family's move to the suburbs and worrying about being the only Black girl in her school. But then she meets R&B legend Korey Fields. When he takes an interest in her, she is initiated into his world of glitz and prestige. Then Enchanted wakes up with blood on her hands—and Korey's dead. Now Enchanted is the only possible suspect, but she doesn't remember where she was when he died.
After pleading not guilty to the shooting death of a police officer, teenager Quan is taken to a holding cell to await trial. It's during this time that we learn about what led Quan to this point. The story is told in a series of flashbacks and letters to Justyce, the main character of Stone's young adult debut, "Dear Martin." In telling his story, Quan tells the story of many young Black men: troubled childhood, bad timing, even a coerced confession. This book takes an unflinching look at the prison system and how Black boys and men are at a disproportionate disadvantage.
Felix Love has never been in love. He feels that his multiple marginalizations—Black, queer, and transgender—might be too much for most people. Then he starts getting transphobic messages from an anonymous student. And this is after they publicly used his deadname, and shared pictures of Felix before he transitioned. Felix is ready for revenge. What he didn't anticipate, though, was getting into a love triangle. In navigating this complex situation, Felix explores an incredibly important relationship—his relationship with himself.
Amal Shahid is an artist and poet who goes to a diverse art school. But he's still seen as unmotivated and disruptive. So when an altercation in a gentrifying neighborhood ends in tragedy, he learns the hard way that "boys will be boys" only applies if you're white. Amal's bright future is suddenly over when he's convicted of a crime he didn't commit and sent to prison. His art and his words are his only refuge. This lyrical young adult novel is co-written by Ibi Zoboi and Yusef Salaam, who is one of the Exonerated Five.
Tavia is a siren who is forced to keep her identity under wraps by a society that wants to keep her kind locked away. On top of that, she lives in Portland, Oregon, which doesn't have a lot of Black people, let alone ones with powers. The one thing she has is her best friend Effie. Together they deal with high school drama and all that entails. But then everything changes following a siren murder trial. The girls are up against the world, especially when Tavia lets out her siren song during a police stop. Their secret isn't safe, and neither is Portland.
Thomas's third book is a prequel to her NYT Bestselling young adult book debut, "The Hate U Give." This book focuses on Maverick Carter before Starr is even born. As the son of a gang legend, Mav only knows one way to care for his family: dealing for the King Lords. And that works for a while. But then he finds out he's a father. It's hard to sell dope, go to school, and be a father. So when Maverick is offered the chance to go straight, he takes it. But when you're a King Lord, you can't just walk away. Maverick has to learn on his own what it takes to be a man.
Jack meets Kate at a party and by the end of the night, he's falling hard for her. But then Kate dies. And while that should be the end of the story, it's not. Suddenly Jack finds himself back at the beginning — the night he met Kate. Jack isn't sure what's happening, but there she is. He may not understand, but if he has a chance to keep Kate alive, he'll take it. Even if he has to believe in time travel. But then he learns that his actions have consequences when he loses someone else close to him. Only he can figure out how far he'll go to save the people he loves.