When The Little Shit Is Yours
by Sarah Tuttle-Singer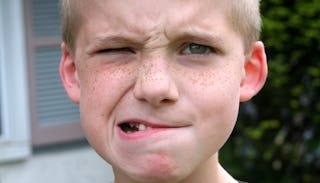 By now, my ears are finely tuned to know my kids' cries anywhere. I am a living, breathing, once-lactating richter scale who can track the velocity of a low moan or a high whine anywhere, anytime. I failed algebra 2, and didn't even bother taking calculus, but believe you me, as a mother, I know how to plug the silences between the screams into that mathematical algorithm that differentiates between "dude, cut the drama," and "holy shit, what's the number for 911?"
And oooh how smug I am as I sit on the stone bench with my ice coffee and think to myself with absolute certainty "well, thank God that wasn't my kid."
But it kind of was.
"Mommyyyyyy!" a scream tears through the playground, louder than the usual clamor of kids shrieking as they fly through the air on plastic swings or whoosh down the big red slide, and loud enough to make all of the mommies raise our heads in neurotic unison like zebras at a watering hole.
But even though I look up, I'm not really that freaked out. By now, my ears are finely tuned to know my kids' cries anywhere. I am a living, breathing, once-lactating richter scale who can track the velocity of a low moan or a high whine anywhere, anytime. I failed algebra 2, and didn't even bother taking calculus, but believe you me, as a mother, I know how to plug the silences between the screams into that mathematical algorithm that differentiates between "dude, cut the drama," and "holy shit, what's the number for 911?"
And oooh how smug I am as I sit on the stone bench with my ice coffee and think to myself with absolute certainty "well, thank God that wasn't my kid."
But it kind of was.
Because while it isn't my beamish boy pink cheeked and howling at the bottom of the big red slide, he is the reason this other kid is crying.
"No! I'm not giving it back!" my son is shouting, as he clutches a Thomas the Tank Engine that sooooooo does not belong to him.
"But it's mine!" the other boy sobs as he reaches for (his!) Thomas.
"No. I want it!"
And guess what I want? I want to throttle my son.
Even in the flurry of it all, I realize that this is one of those (gag) "teachable moments" where I should walk slowly and purposefully to my son, get down on the ground so that we're eye-to-eye, and speak in reassuring and non-judgemental tones.
Where an ideal mother would say "Sweet Boy, it looks like you're feeling a lot of anger right now."
Where an ideal mother would say "Sweet Boy, Thomas doesn't belong to you, and this little boy would like him back."
Where an ideal mother would say "Sweet Boy, what can we do instead of screaming?"
Yeah, well, this mother yells in a voice big and deep, a yell that starts somewhere in the gut and rattles the cords in her throat, a yell that almost tears her tonsils off.
"Dude, that is not your train. Give it back. Now!"
Guess what happens. My son starts screaming, too.
It's been a very long day. Hell, it's been a very long 3 ½ years, and I am beyond horrified that my sweet boy — the sweet boy who likes me to sing Elton John's Tiny Dancer to him when we walk to preschool, the sweet boy who tears his sandwich in half and offers his friend a bite, the sweet boy who sleeps snuggling his Princess Tiana doll — is the reason why this kid is crying.
Meanwhile, the other kids mother is now at the slide, her arms wrapped around her weeping child, while she is skewering my son with her stare. Can't say I blame her. I have been there: Last year, I wanted to cut the little girl who took my son's Princess Tiana doll and made him cry. When I watched my child's face crumple, and his eyes shine like river rocks, my claws came out with a growl from a low and primal place beyond the gut, and I wanted to grab that doll out of the girl's grubby little hands and hit her upside the head with it — thwack thwack thwack — before restoring it to its rightful place in my son's arms.
And I'll tell you something kind of ugly and a little bit scary: I'd rather get all mother lion on someone's ass than be the mother whose child caused another's pain.
Because what do I do? I can have a serious tug-of-war with my (freakishly strong) 3 ½ year old and scream "give me the goddamn train right now this minute" but then I'm that mother in the park screaming at her kid, and everyone is thinking to themselves "Homegirl can't even control herself. No wonder her kid is acting like such a little shit." Or after wrestling Thomas from my son's death grip, I can make him say he's sorry to the other kid, but let's be real: The whole "I'm sorry" thing is just an act for the other mom, because the only thing my son will be "sorry" about is the fact that he can't keep the goddamn train.
Or, I can remind my son of that day last year when someone made him feel sad: "Do you remember how sad you were when someone took your Princess Tiana doll? Do you see how this child is crying now?" and pray that these words will nurture that kernel of empathy that I know is buried beneath the temper and the tears.
So there it is. The "teachable moment" shining through the dregs of a very long day — not just for my son, but for me.
Because karma is a 3 ½ year old with a Thomas the Tank Engine, and now that I know my son is fully capable of acting like a little shit on the playground, and now that I know how rotten it feels to see it happen, I hope I'll be easier on the next little shit that inevitably hurts my son's feelings.
This article was originally published on