Parents Are 'Naming' Their Kids After The Reasons They Had Them And It's Hilarious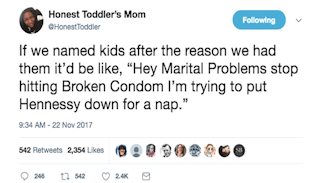 Image via Twitter
Parents of Twitter are "naming" their kids after the things responsible for getting them here
We tried for five years to have my first child. FIVE. Not all pregnancies happen so easy, but then… some of them do. My second was what I guess you'd call an "oops" baby. If we named her after the reason she's here, her name would be "The Pullout Method."
Bunmi Laditan, the woman behind the wildly popular "Honest Toddler" has had a metamorphosis of sorts, and renamed her Twitter account "Honest Toddler's Mom." It's even better than before. It's equal parts hilarity, social justice, and just downright badassery. Recently she tweeted about just what our kids would be called if we named them after the reasons they're here — and the thread is Twitter gold.
"If we named kids after the reason we had them it'd be like, "Hey Marital Problems stop hitting Broken Condom I'm trying to put Hennessy down for a nap."
So. Much. Truth. Here.
The parents of Twitter chimed in, and the responses are hilarious.
https://twitter.com/jetpack/status/933345069234556928https://twitter.com/jetpack/status/933345748208574464
Honestly these names are so much better than the originals, aren't they?
Oh yes. My second's middle name is Rhythm Method.
Yup. Familiar with these kids.
https://twitter.com/jetpack/status/933350813723918342https://twitter.com/jetpack/status/933348416943468544
We could read these all day. Well done.
This article was originally published on