Hero Parents Built An In-Home Blockbuster For Son With Autism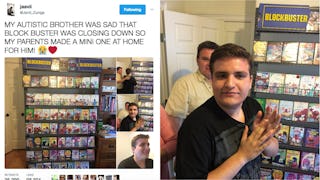 Via Jaavii/Twitter
A mini Blockbuster made this kid's day — and it'll make yours too
Seeing a favorite store go out of business can be tough on anyone. It was especially tough on one Twitter user's brother, who has autism, until his parents stepped in.
Twitter user Jaavii posted a series of photos showing his overjoyed brother's reaction when his parents built a mini, in-home Blockbuster Video store after learning their local franchise was shutting down.
"MY AUTISTIC BROTHER WAS SAD THAT BLOCK BUSTER WAS CLOSING DOWN SO MY PARENTS MADE A MINI ONE AT HOME FOR HIM!" Jaavii wrote.
The heartwarming photos took off, garnering more than 24,000 retweets and almost 100,000 likes in less than a day.
And the responses they got were almost as precious as the original post.
The sweet moment resonated with just about everyone who saw it, including Kat Smith, a mom of two teen boys with autism in Idaho. She said seeing parents do something so meaningful for a special kid — and seeing so many positive reactions — filled her with hope.
"Kids on the spectrum tend to be extremely reliant on routines," she tells Scary Mommy. "Changes in routines can be hard on any of us, but particularly hard on spectrum kiddos. My 17-year-old son used to get REALLY upset any time I took a different route to get home than he expected."
She continued, "When these folks love something, they LOVE something. For us, whatever our son's love was, at different times in his life, became everything."
People generally understanding enough about autism to see how special this moment would be for a Blockbuster-loving kid, Smith said. And seeing that happy moment makes us happy, too.
"Stories like this make US feel good. You know?" she said. "We feel happy that he seems so happy with it. We hope that the people we know might have something like this in their lives to make them smile."
Ain't that the truth?