40% Of Parents Don't Know If They'll Vaccinate Their Kids Against COVID
by Kristine Cannon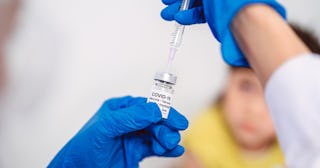 Images By Tang Ming Tung/Getty Images
And 22 percent of the parents polled said they'd refuse the vaccine for their kids completely
As vaccinations ramp up around the country — and as states report more administered COVID-19 vaccinations than cases — new data is surfacing regarding COVID-19 vaccine hesitancy, especially among parents.
Conducted by the National Parents Union, a new poll of 1,000 parents with children in K-12 public schools shows that 40 percent didn't know if they'd vaccinate their kids against COVID-19 when one becomes available. And among that group, 18 percent said they're unsure what they'll do when the time comes, with 22 percent stating that they'd refuse the vaccine for their kids completely. Further, an additional 25 percent of parents said they would get their children vaccinated, but not right away; and, nearly half of all parents — 47 percent — also said public school teachers should be required to get the vaccine.
"The main reasons parents reported for not vaccinating their children included uncertainty around the safety of the vaccine, a belief that the vaccine was developed too quickly, and distrust regarding the information being published about the vaccine," the report states.
National Parents Union Co-Founder and President Keri Rodrigues told HuffPost that it's "very hard at this point for parents to make a decision as to whether or not they would get their kids vaccinated."
"It's going to take a lot of science and the right ambassadors for parents to have any faith that this is something we trust our children's lives to," Rodrigues added.
In the National Parents Union's press release, Rodrigues stated that there's a "serious trust deficit" in the U.S. that's now playing out with the COVID-19 vaccine.
"Public confidence in institutions continues to fall and the onus needs to be on our leaders to do a better job talking to parents and not projecting upon them," Rodrigues said. "Communication throughout the pandemic has been a crisis on its own and so it's no surprise that parents remain unconvinced about the safety of the vaccine. As always, we need to bring together diverse voices so that questions can be answered, and concerns assuaged."
While none of the current vaccines (Pfizer, Moderna and AstraZeneca) are ready for kids — though, Pfizer has enrolled children ages 12 and up in its clinical trials, and Moderna will start testing its vaccine on kids early this year — medical professionals believe kids will play a key role in ending the pandemic.
"We're not going to be able to control the pandemic until children are vaccinated," Robert M. Jacobson, a pediatrician and vaccine researcher who works at the Mayo Clinic Children's Center in Rochester, Minn., told Science New For Students.
And according to the American Academy of Pediatrics, including children in COVID-19 vaccine trials is important because parents must gain trust in a vaccine whenever one becomes available, HuffPost reports.
"It's important to recognize their effort and role in protecting the community," Jill Weatherhead, a doctor at Baylor College of Medicine in Houston, Texas, tells Science News for Students. "It's going to pay off in the long run. And the end is hopefully on the horizon. Scientists are working around the clock so [that kids] can get back to being teenagers."