Couple Honors Deputy Who Delivered Their Baby With Adorable Photoshoot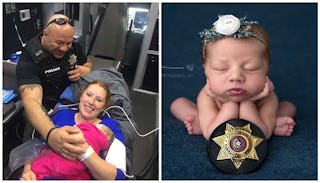 The deputy who helped deliver their baby originally pulled the couple over for speeding
A Texas couple honored the deputy who helped deliver their baby two weeks ago with a set of very special baby photos. Baby Evelyn Joy Debora Hall entered the world in such a unique way that her parents had to celebrate it in her first photo shoot.
Destiny and Caleb Hall had already been to the hospital in Fort Worth – 45 minutes from their home – but doctors told them to come back when Destiny's contractions were more severe. "They told me I wasn't in active labor, and that they didn't even think she was coming this week," she told TODAY. "They asked how bad the pain was on a scale from 1 to 10 … I told them it was an 8. They said to come back when it was an 11."
Despite the doctors insisting baby Evelyn wouldn't be arriving anytime soon, Destiny knew better. "My body was saying, 'Hey, she's about to come right now,"" she shared. So the couple headed back to the hospital, speeding down the highway in their Jeep Cherokee in the early hours of July 18. Deputy Constable Mark Diebold was on his way to work and flashed his lights at the couple's car. He caught up to them at a red light, where Caleb explained their rush. The officer turned on his lights and sirens so he could safely escort the couple through the Texas streets. But Evelyn couldn't wait.
"Caleb was shouting, 'We're gonna get you to the hospital, and we're gonna have this baby!'" Destiny explained. "I said, 'Ha! Pull over.'" Knowing they might need his help, Deputy Diebold pulled over too. "[Caleb] started screaming for me and I ran to the passenger side. There were no complications. He caught the baby, I cleared the airway and she started crying," the office explained. "I wrapped her in a blanket and put her on mom. It was an awesome experience."
The incredible circumstances brought the Hall and Diebold family together. "We've been to lunch with him, met his family," Destiny said. "It blew me away of how much this meant to him and his family. They were in tears. So I really wanted to give him something to memorialize this day … something sweet to have. This event was really life-changing." The Halls contacted Cyndi Williams, who specializes in maternity, birth, and newborn photography, and together they created the special pictures of baby Evelyn with Diebold's uniform and badge.
The photo shoot was significant for Williams, too. "Just all the negative stuff that's out there right now [about law enforcement], it was such a feel-good story for me because my own mother and sister are both police officers in Louisiana," she explained. "I feel so honored to be even a tiny part of the journey with this wonderful family." Williams did the photo shoot for the Halls for free.
And the photos were a massive success. For the 23-year veteran officer, they captured a once in a lifetime experience. "It was amazing. It was heartfelt and it was a big deal," he told reporters. "That photo shoot reminded me that [police work] is what I need to keep doing until it's my time to stop."
This article was originally published on