Parents Horrified After Baby Doll Teaches Their Toddler To Say 'F**k It'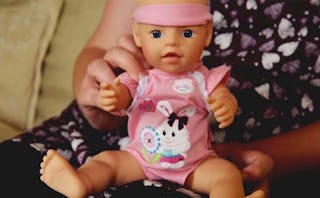 An Australian couple is horrified after a doll their two-year-old picked out from a Toys R' Us started swearing like a sailor. Well, maybe not a sailor — more like a potty-mouthed pop star. The doll sort of sings: "Fuck, fuck, fuck it… heyyyyy…." It's actually pretty catchy.
They look so sad! Basically, they bought the toy, brought it home, heard the words "fuck it," and freaked. They insist their two-year-old won't stop repeating the words the Baby Born Nappy Time doll uttered the first time she played with it. The product description on the Amazon UK page says the doll has "realistic movements and sound effects." Pretty sure it's just meant to babble, not swear like a jaded Vegas performer.
Been there. Not with a doll, but with unsavory words accidentally slipping out of my own mouth. Sometimes you think you're in the clear, only to hear your child repeat the words days later. A swearing episode has probably happened to every parent out there, right? Unless there are people who live in a parallel universe where swearing never happens. That is not my universe.
These parents are clearly glass half empty kind of people. My son once dropped a toy while we were in the waiting room of a doctor's office and yelled, "Fuck me!" Oops. I would have loved to have a doll to blame that on.
The mom worries that if her daughter picked those words up so quickly, she might say "fuck, fuck, fuck it" every time she sees another doll. She also wonders, "Is it just this doll? Is it all the dolls in this batch? Is someone in the factory just having a laugh?"
I'd like to know the answer to those questions too, because I'd love to get my hands on one of these. Best white elephant gift, ever. And it pees. Jackpot.
This article was originally published on