Couple Kicked Out Of Texas Restaurant For Wearing Masks To Protect Their Son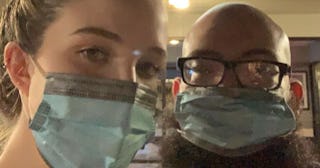 Natalie Wester Facebook
New parents were kicked out of a Texas restaurant for **gasp** wearing a mask
Here's a story that just screams "What happens in Texas." A young couple was kicked out of a restaurant in a suburb outside Dallas because the couple wanted to wear masks while they sat and waited for their food. Apparently, the owner of the restaurant doesn't **believe** in masks and despite the fact that the couple is parents to a newborn child with cystic fibrosis and wanted to minimize their chances of contracting COVID-19, they were told to take their masks off or leave. So they left.
Natalie Wester and her husband Jose Lopez have an infant son, Austin, who has cystic fibrosis and is immunocompromised. On the advice of their doctor, they must limit their exposure to COVID-19 and even the common cold, for fear they may pass it on to their son. The couple told The Washington Post that they don't go out often, but as their doctor says, they gotta live their lives and a night out for dinner with friends and wearing masks until the food arrived seemed perfectly reasonable to them, that is, until they stepped foot inside Hang Time Sports Grill & Bar in Rowlett, Texas, outside Dallas.
"Tonight my husband and I had a very unpleasant experience at Hang Time in Rowlett," Wester began her Facebook post.
Calling the entire situation "bizarre," Wester says that "when my husband and I are out, which is not often, we choose to wear a mask," but said that upon walking into the restaurant, the host immediately asked them to remove their masks, which Wester thought was so the host could check their faces against their IDs. The couple put their masks back on, went to their seats, and began to order, when a waitress came by to tell them to remove their masks again.
"About half an hour passes and our waitress comes, sits down next to me, and says 'Our manager sent me over because I'm nicer than he is. And yes, this is political.' She then told me that masks are not allowed in their building, and they can make the rules because they are private business. She said that the mask 'doesn't work, is like using a chain-link fence to keep out mosquitoes, and doesn't give people enough oxygen.'"
When Wester told the waitress they would prefer to wear masks to protect their immunocompromised son, who was at home, the waitress told them to close out their tab and leave, so they did.
While the ban isn't posted anywhere in writing, the hostess asks everyone who enters with a mask to take it off, the restaurant's owner Tom Blackmer told The Post.
Many restaurants, shops, and other businesses in America require that guests and employees wear masks indoors, due to the fact that the CDC, the WHO, and many local health organizations all agree that wearing masks prevents the spread of COVID-19 and this logic is based in science. It just makes sense. What doesn't make any sense is a restaurant deciding that you cannot wear a mask inside because the restaurant owner came up with some "chain-link fence" analogy that feels like it was lifted from a Facebook group for Ivermectin enthusiasts.
For those COVID-19 deniers out there who are saying, "if restaurants can require masks for entry, then other restaurants can forbid masks on entry." You're right, a private business owner can make whatever bizarre dress code they want. But restaurants that enforce mask mandates are doing so because the science says that mask-wearing reduces the spread of COVID-19. A restaurant that says "no masks allowed" is doing so because??? Question mark? Because he wants to? Because he's a COVID enthusiast? Make it make sense.
As for Wester and Lopez, since sharing their story about Hang Time Bar and Grill, Wester tells Scary Mommy that "the response has been both negative and positive," but added that "we are especially grateful to the numerous families who have reached out and shared their experiences with their own children with cystic fibrosis."