Grieving Parents Start Non-Profit To Pay Hospital Bills For Stillborn Babies
by Meredith Bland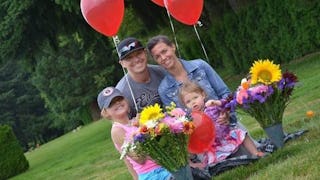 Image via Rebekka Hauskins
Family creates non-profit in daughter's name
There's nothing more painful than the loss of a child. Rebekka and Randy Hauskins know this all too well, having lost their daughter Hayden to stillbirth in July of 2010. Now, they're using that experience to help other families heal in a simple, yet, powerful way — by helping them pay their hospital delivery bill.
Coping with stillbirth or miscarriage involves learning how to handle a lot of would-be milestones and missed anniversaries. One on-going reminder for many parents is the hospital bills that arrive after a D&C or labor and delivery. This doesn't get talked about often because the grief of your loss vastly overshadows any concerns about money, but writing a check to pay for the cause of your suffering is something that never gets easier.
The Hauskins experienced that firsthand after losing their daughter when they wrote a check for $77 every month for approximately one year to pay their $1,000 hospital bill. "It was something [Randy] had to consciously write a check for every month — no matter if it was a year later…He still was writing that check and it hurt every time," Rebekka told Today Parents.
After losing Hayden, the Hauskins wanted to do something to help others coping with stillbirth, but didn't know how until their first hospital bill arrived. "You just feel like there has to be something you can do to help after a loss. It wasn't until we had gotten our delivery bill that it struck me to take away that expense," she said. "After losing a child, there's nothing anybody can say to you that can make it better — there's nothing anybody can do to change the situation, but, the financial burden can be changed."
The Hauskins created Hayden's Helping Hands, a non-profit organization that pays $1,000 — the same amount that the Hauskins' bill was — of the hospital delivery bill for parents of stillborn babies in Oregon and Washington. So far, they've paid the delivery bill for 43 different families.
When someone loses a child, there's nothing you can do to fix it, but there are things you can do — practical, quiet things — that make it easier for those families to find the space they need to grieve. Helping them pay that hospital bill is a brilliant and beautiful way of doing just that.
Still, Rebekka told Today, she knows the most important part of their gift isn't the money, it's the recognition: "For us, it's about saying, 'I know you had a baby and I recognize your loss.' No one wants to acknowledge grief, but it's important."
The Hauskins have done a phenomenal thing to help those going through the same unimaginable pain they did. Their mission also gives their daughter's too-brief life a higher purpose: "I didn't want Hayden's life to be in vain. I didn't want the loss to be for nothing or to not be able to say to another mom, 'You can do this, You can move forward.' Every family that we help is adding to Hayden's legacy."