What Parents Need To Know About The CDC's COVID School Guidelines
by Elaine Roth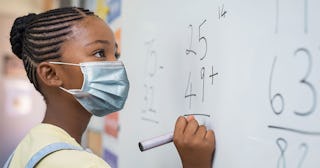 Ridofranz/Getty
While most kids (and parents) are firmly in summer mode, the CDC has turned its attention to the 2021-2022 school year. Once again, this school year promises to be unlike any other that came before. Along with the challenges we're all used to grappling with—namely whether and how to hold in-person school during a pandemic—administrators, teachers, parents, and students have the added complication of trying to figure out how to hold school in a world that's increasingly vaccinated and maskless … and contentious.
Enter the CDC's guidelines, which attempt to answer that question.
In-Person School Is A Priority
The CDC acknowledged that in-person school is a priority and that it can be conducted safely. The CDC highlighted studies that showed transmission within school remained lower (or similar to) community transmission levels when a variety of prevention strategies were used.
Experts have applauded this. In an interview with The New York Times, Dr. Benjamin Linas, an infectious disease specialist at Boston University, said, "I really appreciated the top-line focus on the most important thing — that we need to have in person learning."
However, that piece of guidance is not directive to throw open the doors and return to pre-pandemic life. The key to making in-person learning successful, and making students and parents who've been hesitant to return feel safe, is prevention. Layers of prevention, in fact.
Indoor Mask Wearing
The question on nearly every parent's mind—whether they are for or against masking—is "Will my child have to wear a mask at school?" The answer is maybe.
The CDC addressed masks in a variety of contexts. They stressed "consistent and correct mask use by people who are not fully vaccinated" as a way to protect yourself and others.
In indoor settings, the CDC recommends mask use by everyone older than two, if they are not vaccinated. Since the vaccines are not approved for anyone younger than 12, this would mean most elementary school kids are masked. (The CDC did address exceptions to that rule.)
The guidance did allow for vaccinated individuals to go mask-free indoors, but that statement comes with a few caveats. The CDC recognized that schools may require universal mask wearing, even for those who've been vaccinated. The things schools should consider before making that choice include:
High community transmission
Variants that transmit more easily among kids or could make kids more ill
An inability to monitor the vaccine status of students, teachers, or staff
Low vaccination rate within the community
Trouble enforcing a non-universal mask policy
Community feedback—if the majority of the community is calling for mask use before returning to in-person learning.
In outdoor settings, masks aren't generally needed unless it's very crowded or there's "sustained close contact" with non-vaccinated individuals—particularly in areas of high local transmission.
Social Distancing
"Social distance" became a buzzword for the pandemic even before the benefits of mask wearing became known. Early on, we were told to keep at least six feet of space between ourselves and others not in our household. The CDC's initial school guidance from way back in pandemic early days suggested social distance between students and between students and teachers. That hasn't changed—much.
The CDC still recommends at least three feet of space between students. However, the CDC's guidance has been updated to say that even if three feet of space cannot be maintained between students (you know, because class rosters have grown but classrooms have not), in-person learning should not be abandoned. Erin Sauber-Schatz, lead for the Community Interventions and Critical Populations Task Force at the CDC stressed to NPR that "If 3 feet is not feasible, it should not keep kids out of school."
Other Prevention Strategies
The CDC calls for a "layered" approach to prevention strategies—meaning, schools should implement layers of precautions in the hopes that if one layer lets the virus through, another layer will be there to prevent it from getting any further.
Particularly when social distancing is not possible, it's even more important to use other prevention strategies. The CDC highlighted the following: "indoor masking [especially indoor mask wearing], screening testing, cohorting, improved ventilation, handwashing and covering coughs and sneezes, staying home when sick with symptoms of infectious illness including COVID-19, and regular cleaning to help reduce transmission risk".
Joseph Allen, an expert on healthy buildings at Harvard T.H. Chan School of Public Health, told the New York Times that he was particularly encouraged to see that the benefits of good ventilation were specifically called out. (Of course, and unfortunately, in many school districts, good ventilation is easier said than done.)
Variants are the big unknown when it comes to any prevention strategy. CDC's guidelines confirm that they will monitor how the variants are responding to prevention strategies in the real-world and then will update their guidance, as needed.
Getting Everyone Vaccinated
One of the best ways (arguably the only way?) to end the pandemic is through vaccination. The more folks we have vaccinated, the less chance the virus has to transmit or mutate. With that in mind, the CDC urges schools to promote vaccination to all eligible students and adults.
That's easier said than done. For one, kids younger than twelve obviously are not yet eligible for vaccination. That may change in the fall.
Two, vaccines aren't mandatory. Chances are that they won't be mandatory until the vaccines are fully approved. (As a reminder, vaccines are currently authorized under an emergency use authorization.)
Overall, the CDC's guidance recognizes that different communities have different values, stressors, resources, and needs that will impact their school year and the decisions they make. The heart of all the guidance is this: keeping our kids safe. I think we can all agree that's what matters the most.