Netflix's 'Midnight' Countdown For Kids Is Back To Save Your NYE
by Meredith Bland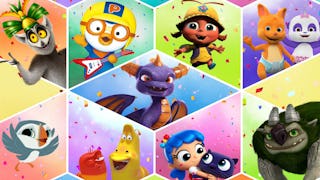 Image via Netflix
Celebrate New Year's anytime with Netflix
Sometimes, good parenting involves a little bit of lying. Scratch that: what we mean to say is, all parents lie and we lie a lot. Sometimes it's for our kids' best interests ("Aw, look at that deer taking a nap on the side of the road. Honey, please speed up.") Other times, it's for our own survival. So, in the grand tradition of the old, "Uhhhhh the tooth fairy didn't come last night because she has the flu," comes Netflix's annual "New Year's Eve is at 7:30 pm" lie.
Honestly it's our favorite lie all year.
For the 4th year in a row, the good people at Netflix will provide an out for all those exhausted parents who are dreading the idea of New Year's Eve with a two-year-old. Starting today, parents can get on Netflix and search through the nine options available for tricking their children into sweet, sweet, early sleep on New Year's Eve with a fake countdown that can be played whenever:
Just search "New Year's Eve Countdown" or "Countdown" and you'll have access to videos counting down the last ten seconds of the New Year with everyone from Larva to True and The Rainbow Kingdom. You can also find the links by clicking on the 2018 icon in the Kids' section. (Note: if you do search by "countdown" you will also pull up a movie called "Countdown," the description of which starts with: "He has suffered a loss that is every parent's worst nightmare." Do not use this movie for your New Year's countdown with your toddler.)
Here's the full list of New Year's Eve cartoon revelers:
Beat Bugs
Skylander's Academy
All Hail King Julian
Trollhunters
True and The Rainbow Kingdom
Word Party
Pororo The Little Penguin
Puffin Rock
Larva
No one wants to stay up for an extra four hours with a cranky kid who insists they don't want to miss a countdown that they don't really understand anyway. At 8 pm (which is when Netflix says most parents play their countdown videos), why not "celebrate" with your kids early so everyone is happy and you can get a little nap in before the fireworks start and you have to figure out how to rescue your dog, who has tried to crawl underneath the refrigerator.
Don't worry, you'll get used to it. New Year's will never be fun again because we're parents and fun is now defined as an 8 o'clock bedtime. But thanks to Netflix, this year we can celebrate in style, and by "in style" we mean "drifting off to sleep listening to the silky smooth voice of Ryan Seacrest while our children are already conked out and quiet."
Happy New Year!