Parents of Overweight Children Don't Know Their Kids Are Overweight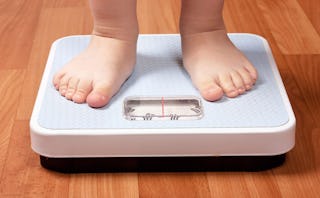 The study hinged on "the Goldilocks question," which asks parents to describe their children as overweight, underweight or just right. Nearly 95 percent of parents with overweight kids checked just right, as did more than 70 percent of parents with obese children.
At a time when one in three children is currently overweight or obese, the study is worrisome. It indicates that those on the frontlines of the struggle—parents—are often in the dark. Indeed, as The Washington Post notes, the greatest barrier to overcome may be that of perception. As average weights rise, so do our beliefs about what a "normal" body looks like.
But what the study doesn't address is how this dynamic cuts both ways. Just as the growing waistlines of our neighbors' children may be skewing our perspective of what normal looks like, so too does the proliferation of images of too-thin girls and women in traditional and social media.
The stakes couldn't be higher. Research indicates that a parent's visual perception of their child's weight—the very thing so many of us get wrong—greatly influences the eating habits they instill in their children. And getting parents to perceive their children's weight accurately may be an important factor in reducing the numbers of both overweight and underweight children.
In short, parents may be more clueless than ever in forming a clear idea of what a healthy child's body looks like, and yet doing so is actually more important than ever.
So it begs the question: How do you know if your child is the right weight if you can't trust your eyes?
Find a doctor you trust.
A good doctor will rely on a number of factors, including your child's growth curve over time, family history and diet along with their weight and body mass index (BMI). Taken together, that information should help your doctor gain a clear understanding of your child's health.
Learn your child's BMI …
According to the National Institutes of Health, BMI can be a useful indicator of whether your child is overweight or underweight. If you know your child's height and weight, you can calculate their BMI here.
… but don't let the number be everything.
Position health and wellness as the most important factors in your child's life. Assess your child in terms of their activity level and eating habits rather than exclusively by their weight.
Eat together.
When it comes to healthy eating habits, you are by the far the biggest influence in your child's life. Eating as a family not only has benefits far beyond the dinner table (better grades, lower levels of depression) it allows you to see what your child is eating.
If there is one silver lining to these findings, it's this: We parents tend to love our children as they are. In so many ways, this is a wonderful thing. With hope, we will continue to do so as we persist in finding ways to raise healthy and confident kids.
This article was originally published on