Most Parents Feel Pressured To Make This The Best Holiday Season Ever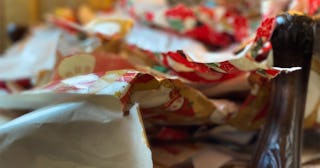 Catherine McQueen/Getty
Parents are ready to pull out all the stops to make this holiday season extra magical for their kids
It's no secret that these are hard times to be a parent. Trying to navigate a pandemic is immensely stressful for us adults and knowing that, it's been a special brand of heartbreak seeing our kids deal with one COVID-related disappointment after another. That's to say nothing of the children who have watched loved ones fall sick or even die from the devastating virus that's claimed the lives of over 750,000 Americans. That's probably why a new study is showing that most parents are going to give it their all to make this holiday season the best one yet for their kiddos.
According to a study involving 2,000 parents of kids under age 12, parents "plan on making this holiday season memorable by keeping holiday traditions like decorating, baking, spending time with their loved ones – and by buying plenty of gifts." The results of the study, conducted by OnePoll on behalf of The Toy Association, shine a light on the state of mind most parents are in as the holiday season approaches. Basically, we are willing to go to great lengths to give our kids something to be excited about this year.
However, hunting down those coveted items is probably not going to be easy. With supply chain issues stopping up the works in just about every industry, this year's quest for those in-demand presents is going to be more fraught than usual. The study found that one in six parents say they always struggle to find something their child would want as a gift with one in seven saying they start shopping super early — in September.
That early-bird attitude possibly stems from the fears of parents who think their child would feel disappointment over not getting the gift they want — 41 percent of parents are convinced that's the case for their little one. Top gifts, according to survey responses, are toys (62 percent) and electronics (58 percent).
Sixty percent of parents confess that making those gift dreams come true is too expensive but that doesn't stop almost 75 percent of respondents from saying they'd feel guilt if they couldn't afford the toy their kiddo wants. Sixty-five percent of parents said they would be willing to purchase knock-off/counterfeit toys if their first choice was unavailable.
TL;DR? Most parents are positively desperate to make the holiday magic happen, this year more than usual. It's not at all hard to understand why. After watching my own kids miss sports seasons and other fun activities along with hardly seeing our extended family over the last two years, I know I'm certainly determined to bring the "wow" on Christmas morning this year.
That said, us parents should try to remember what made this time of year special when we were kids. Chances are, it isn't the memory of a particular present, but of time spent with family and loved ones that makes us feel warm inside. Christmas movies snuggled up on the couch, going sledding with the kids next door, and having those snowman pancakes grandma always makes — those are the things that will stick with a child long after the memory of the year's coolest toy fades.