Parents Are Sending Their Kids To Rehab For Fortnite Addiction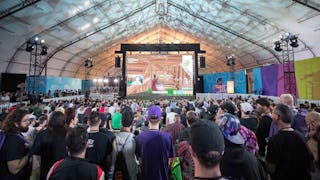 Image via Getty Images/ Hannah Smith
Gaming addictions are treated similar to drug and gambling addictions
If you have kids of a certain age, you've likely dealt with the hell that is Fortnite. It's like a drug to millions of kids (and some adults) and as with any addiction, some parents are seeking treatment for their kids who they believe can't stop on their own.
Gaming has been around for decades, but the popularity of Fortnite is unlike anything we've seen in recent history as far as its addictiveness. Michael Jacobus, a counselor at camps in California and North Carolina and a nationally recognized child-development professional, told Bloomberg that more than half of the kids he's spent time with were "playing Fortnite excessively" — a growing problem that has many parents concerned for their kids' well-being.
I've seen it firsthand in my home. Fortnite was recently taken away from my 13-year-old for dropping grades and when I told him, he started crying uncontrollably and said, "Can't you just take away my phone and friends instead?" I was dumbfounded. I had no idea how addicted he was to the game until that very moment.
Parents need extremely clear boundaries when it comes to the game. We set them for food, exercise, sleep — so why wouldn't we set them for video games? It's not easy, believe me. But the alternative could become much, much worse.
"This game is like heroin," said Lorrine Marer, a British behavioral specialist who works with kids battling game addiction told Bloomberg. "Once you are hooked, it's hard to get unhooked."
According to American Addiction Centers, treatment may be applicable when "gaming begins to take precedence over school, work, or relationships." So, what does treatment look like for the gaming addicted? Most therapies center around removing the gaming device and focusing on healthy eating, sleeping, and group therapy with the goal of finding a more balanced lifestyle.
Fortnite isn't just causing problems for kids. An online U.K. divorce service in 2017 says 200 petitions cited Fortnite and similar video games as the reason their marriages ended.
The World Health Organization designated "gaming disorder" as a disease in June of this year, making it potentially easier for parents to receive reimbursement for treatment from insurers, Paul Weigle, a psychiatrist in Mansfield Center, Connecticut told the Boston Globe.
Of course, many parents will read this and think, "Just don't let your kids play," but it's easier said than done. The game is free and can be downloaded on most devices, so many kids log in at school, friend's houses, or at home before their parents get back from work.
With more than 200 million people registered to play Fortnite and thousands merely watching others play on YouTube and Twitch, it's quickly becoming an issue of epidemic proportions and something all parents should be aware of.