Parents Tell Boy His Lost Elephant Is 'Traveling,' Internet Backs Them Up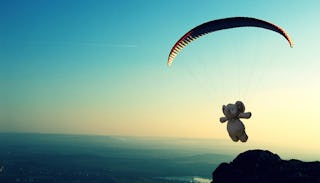 Image via Imgur
Little boy's lost toy elephant gets Photoshopped around the world
Most kids have a favorite toy or blanket that they simply can't be without, and when those old favorites get lost, it can be hell on both the parents and the child. That's why one set of parents recently made up a brilliant "lie" to help their son get through the loss of his favorite elephant, and the internet has stepped up to help in a big way.
Reddit user KontanKarite recently posted that a friend's little boy had lost his favorite toy — a small, gray stuffed elephant. Rather than upset their son by telling him the elephant was gone, the parents brilliantly opted to explain away the toy's absence by saying it was off traveling the world. The Reddit user shared a photo of the elephant, and asked other users to do a small favor for the boy by Photoshopping his toy into different locales around the globe. The responses that have been posted so far are adorable enough to melt anyone's heart.
Already, the elephant has been to all seven continents and seen a few wonders of the world along the way. He even got a chance to meet up with the rest of his family.
It's also been skydiving, white water rafting, and blasted off to outer space. In fact, I'm pretty sure he's the first elephant to land on the moon — that's one small step for him, but one giant leap for elephant-kind.
The elephant even made a stop in London and met up with Paddington Bear. Check out that monocle. World travel is clearly turning this elephant into a very refined young gentleman.
As a parent, the kindness and brilliance of the people posting in this Reddit thread gets me right in the feels. These parents came up with a perfect cover story on their own, but the pictures make it about a million times better. There's no doubt that seeing photos of all the places the elephant has visited will put a smile on that little boy's face, and he'll probably even learn a few new things about the world along the way.
They say it takes a village to raise a child. For better or worse, the internet has made that village a whole heck of a lot bigger, but in this case, it's definitely for the better. It's heartwarming to watch so many strangers come together to help cheer up and spark the imagination of a little kid. Kudos to the boy's parents for their quick thinking in coming up with an adorable cover story for the missing elephant, and a huge round of applause to the Reddit users who gave this beloved toy a photo album to rival even the most seasoned travelers.
This article was originally published on