Parent's Texts To Son During Florida Shooting Will Break Your Heart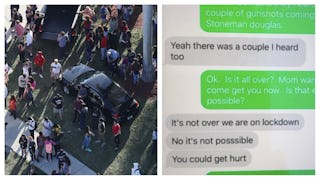 Image via Joe Raedle / Getty/ Twitter
One message from a student to her parent reads: "If I don't make it, I love you"
Many parents experienced their worst nightmare yesterday afternoon in Parkland, Florida, when an active shooter opened fire at Marjory Stoneman Douglas High School. At least 17 victims have been reported dead, with the amount of injured students and staff still unknown.
During and immediately following the shooting, students were on lockdown, during which many students who were able reached out to their parents to let them know what was going on.
It should be unimaginable — knowing how to respond to your children in the event of a school shooting — but for many parents all over the United States it's a harsh reality. It's only February and this marks the 18th school shooting in 2018. Let that sink in for a minute. Will we, as parents, ever feel safe sending our kids to school?
Carli Teproff, a reporter for the Miami Herald, shared a text message exchange between a parent and their son during the lockdown.
"Stay hidden or play dead if there is an active shooter." Absolutely gut-wrenching. For me personally, it would be a Herculean feat to remain so calm and level-headed while talking my child through something like this. But the fact remains — school shootings and school shooting drills have become commonplace throughout the U.S. School shootings have become a normal disaster to prepare for as the tornado and earthquake drills from our childhoods.
Another reported text exchange, shared on Twitter by WSVN 7 News in South Florida, is similarly heartbreaking.
"If I don't make it, I love you and I appreciated everything you did for me." As a mother reading that, I can feel my knees giving out just thinking of that poor parent. Again — the unimaginable has somehow become the new normal, as senseless gun violence continues to terrorize our schools.
One Twitter user, Kaitlin, shared the text messages she received from her terrified sister during the shooting, instructing Kaitlin to call 911 and tell their parents she loves them.
Some students communicated to friends and family through social media during the lockdown.
After the lockdown, classrooms were evacuated by first-responders and SWAT team members.
Another student, Morgan Williams, shared her thoughts about the trauma she and her classmates were forced to endure.
It's only February. And we're already into double digits on acts of gun violence in schools. I'm so tired. Aren't you tired?
When are we going say we've had ENOUGH? Enough of parents and their children living through preventable nightmares? The time for talking about gun control is up. The time to act is NOW. Join Moms Demand Action for Gun Sense in America to start advocating for the safety of our children and stay updated on how you can help.
This article was originally published on