Photos Of Record Snowfall In Paris Are Just As Dreamy As You'd Expect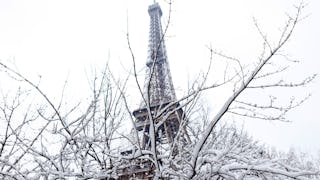 Image via Taamallah / Nurphoto
These pictures prove Paris is perfect any time of year
For many of us, this winter in particular seems like a never-ending abyss of darkness and cold. But for those in the City of Light — not so much. Because if these recent photos are any indication, Paris in winter is downright heavenly.
Paris isn't typically a very snowy city, even during the coldest winter months. But after receiving a record snowfall yesterday — a whole six inches — the familiar cityscapes we all know and love from old movies and postcards are completely covered in snow for the first time in a long time. While Paris averages about 15 snow days a year, it hasn't seen a heavy snow accumulation since 1987, according to The Mercury News.
Though the city itself was somewhat unprepared for the "petit blizzard" of sorts, that didn't stop Parisians from coming out and enjoying the whimsy of their city covered in snow.
We're sighing looking at these photos because they're honestly just so dreamy.
The French may not be as crazy about their most famous landmark as the rest of the world, but how can you not just love everything about this?
Don't you just want to grab a glass of wine and take a stroll? Why doesn't snow look like that here, dammit?
Not to sound like a pretentious ass, but I've been to Paris (please know I was painfully broke and on a much-discounted college trip with my journalism class that I paid for myself). These pictures bring tears to my eyes even now, 12 years later. It's truly such a special, magical city.
Are we sure this isn't the cover of a romance novel? Or a desktop screensaver or something? LE SIGH.
For a city that hasn't seen more than a dusting of snow in over 30 years, Parisians are handling it exceptionally well (full disclosure: French people are lovely, happy, and just…relaxed, all the time).
There are grown adults in the Everlasting Tundra that is the Northeastern region of the United States who won't leave their front stoop when it looks like this outside.
Take this woman, for example. Just nonchalantly riding her bicycle in the middle of a snowstorm donning a wardrobe that could easily be found within the pages of Vogue.
Or these people, taking full advantage of all the romance and winter wonderland Paris has to offer. Maybe they were like "it may be the middle of the week, mon chérie, but let's get married in the snow." Who could blame them? This photo is gorgeous.
So much applause for this gentleman, who refuses to wait another 30 years before being able to ski on the streets of Paris.
Natives and tourists alike took to social media to share their own photos of the breathtaking scenery.
You know what else is dreamy? Pretending you can afford anything on any given shopping street of Paris.
Is there anything more sigh-worthy than an actual castle covered in snow? While this particular castle, Chambord, is about two hours outside of Paris — it's too lovely not to include.
Same goes for this guy: