Parkland Students Perform 'Seasons Of Love' At The Tonys And Everyone's Crying
by Valerie Williams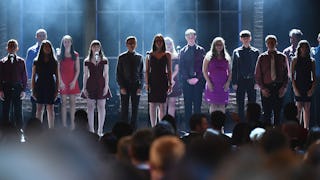 Image via Theo Wargo/Getty Images for Tony Awards Productions
Parkland drama students had the best moment of the Tony Awards with their performance of "Seasons of Love"
Last night marked the 72nd Annual Tony Awards, a night full of Broadway's best and brightest, but it was a group of high school drama students who stole the show. Kids from Marjory Stoneman Douglas performed a song that had the entire audience — both at Radio City Music Hall and at home — in tears.
The Parkland students sang "Seasons of Love" from "Rent" and to say it was a powerful rendition of the much-loved tune is the understatement of the century. Watch their heartfelt performance and try not to ruin all your eye makeup.
I warned you about the tears. The emotions are real. As this Tonys viewer so aptly pointed out, the song had much deeper meaning behind it than simply being a lovely song to sing.
People basically lost it over their gorgeous performance.
This was not merely adults patronizing teens for their effort — they were legitimately amazing.
The students were there along with their teacher, Melody Herzfeld, who accepted a special award for excellence in theatre education just before her students took to the stage. Herzfeld sheltered 65 kids in her drama classroom during February 14th's deadly shooting and is credited with saving their lives by staying calm and telling them all what to do in order to be safe. Her acceptance speech was just as touching and poignant as her students' beautiful performance.
"I remember on February 7th, in a circle with my students, encouraging them to be good to each other," she said. "And I remember only a week later, on February 14th, a perfect day, where all these lessons in my life and in their short lives would be called into action. We all have a common energy. We all want the same thing. To be heard. To tell our truth. To make a difference. And to be respected. We teach this every day in every arts class."
As a former theatre kid (and current — once a theatre kid, always a theatre kid) this entire story resonates deeply. The power of music to both deal with difficult times as they happen and to help with the healing afterward is very real. These students and their incredible teacher are proof. While so many Parkland teens are making the news for their very important efforts to reduce gun violence and make schools safer, this is just as newsworthy.
This tweet sums it up best.