Parkland Kids Unveil Sweeping Gun Control Plan 'Written By Us, For Us'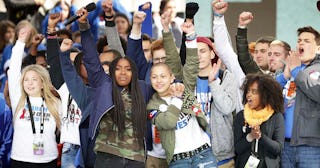 Chip Somodevilla/Getty
The young activists who survived the Parkland shooting just laid out a "bold" and detailed plan on gun control
The students who survived the shooting at Marjory Stoneman Douglas in Parkland, Florida just released one of the most detailed plans on gun control we've ever seen.
The Parkland kids became famous for the worst possible reason– surviving a horrible mass shooting where 17 people were killed, including many of their classmates. But they have taken their collective pain and used it to hopefully, make our country safer in some major ways. They've spent time focused on registering young people to vote, speaking out about the epidemic of gun violence, and making plans for change. Now, they're making their biggest move yet, in a sweeping new plan on gun control.
The detailed plan they just unveiled is appropriately called "A Peace Plan for a Safer America." In it, are six goals for drastically reducing gun violence. The items on the list are huge, but they are clearly extremely well-thought out and specific.
Some of those items are things like naming a director of gun violence prevention and holding the gun lobby accountable by investigating the NRA. They also want to declare gun violence a national emergency. And perhaps the biggest goal is to "halve the rate of gun deaths in 10 years" by passing national gun control legislation.
Other important points laid-out in the Peace Plan are automatic voter registration when those eligible turn 18, as well as creating a "Safety Corps," which would be like a Peace Corps for gun violence prevention. Mental health services are part of the plan, too. Really, it takes an "all-angles" approach, which is so desperately needed right now. And, it's certainly better than the "thoughts and prayers" approach that's pretty much all we have thus far.
Tyah-Amoy Roberts, one of the survivors who is on the board of directors for March for Our Lives, says the plan is bold. "It's nothing like anyone else is proposing. We are really setting audacious goals," she said, calling it a plan "written by us, for us."
And who better to write it really, than the kids who have been through what these kids have been through? They are leading the charge on gun control because they know first-hand how urgently change is needed. While it would be great if action was coming directly from our leaders, these kids are sick of waiting. So, they stepped into those leader roles on their own.
It seems like they are the ones who are actually driven enough to do it.
David Hogg, one of the most well-known students and co-founder of March for Our Lives spoke about why this group of kids is so driven. "I think similarly to a lot of the country, I'm in a lot of pain right now. You see these shootings on TV every day and very little happening around it. It's painful to watch. And I think it's been really hard for me and many of the other students and people that we work with to find hope in this time. But I think that this plan is something that we can truly — as a country and as Americans united against violence and fighting for peace — can get behind."
Hopefully, even politicians will get behind it, too. The plan is reportedly going to be considered by President Trump. So, cross your fingers and toes, America.
Hogg is certainly right that in the wake of constant shootings, and with continued inaction out of Washington, it's hard to stay hopeful that anything will ever change. But the Parkland kids seem to be paving the way. They are so inspirational and motivated. And that's what we need a whole lot more of in this country, especially when it comes to action on guns.
The last point on the agenda is the empower the next generation. The Parkland kids are already doing that but it's clear they have so much more to accomplish. Don't expect them to slow down. They're just getting started.
This article was originally published on