#DearAlyssa: Parkland Mom Writes Heartbreaking Valentine To The Daughter She Lost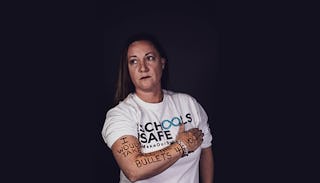 Image via DearWorld
Lori Alhadeff's letter, titled #DearAlyssa, is a gut-wrenching read one year after Parkland
It's been one year exactly since a gunman walked into Marjory Stoneman Douglas School in Parkland, Florida, and killed 14 students and three staff members. Today, on Valentine's Day and on the tragic first anniversary of her daughter's murder, one Parkland mom has written a heartbreaking, powerful letter titled #DearAlyssa.
Lori Alhadeff's 14-year-old daughter, Alyssa, was one of the victims of the shooting at her school last year. Lori has been working hard to affect policy change when it comes to gun control. She even won a seat on the Broward County School Board and founded a nonprofit organization called Make Our Schools Safe.
Not long after the shooting, Alhadeff gave a gut-wrenching plea to Donald Trump that aired on CNN after her daughter's death. It was unforgettable. The profound grief found in her Valentine's Day letter will also have a lasting effect on anyone who reads it on DearWorld.org.
"It's Valentine's Day. A day full of love, chocolates and flowers," Lori's heartbreaking letter begins. "For me, it is more than that now. Last Valentine's Day was the last time I saw you. You wore a black and white dress. Your long dark hair dangled. Your makeup looked just right. Of course, your white Converse sneakers protected your feet as you walked into Marjory Stoneman Douglas High School."
She says now Valentine's Day is about memories. She shares the details of her last moments with her daughter before sending her off to school. "I remember the golden gift bag I gave you that morning," she writes. "It held a pair of diamond earrings to make you feel pretty, a chocolate bar to make you smile, and hair ties so you wouldn't ask for mine. I touched your ears, putting the stems of the earrings through your lobes. You said you were ready to go to school after that."
The mother and daughter exchanged "I love yous" and went about their day. It was the last time Lori saw her daughter alive.
She says so much has happened during the last year without Alyssa, so she shares some of those moments with her daughter in the letter. "There are things I do in your memory that I never thought I could or would ever do," she shares. "I ran for the school board. I won! I screamed on national TV—words of rage directed at the President! I started a non-profit called Make Our Schools Safe and there is a law named after you in New Jersey–Alyssa's Law."
She writes that as soon as she heard there had been a shooting at Stoneman Douglas, she had a feeling her daughter was no longer alive. "I knew you were gone," she writes. "You were with me. I knew it." She says the intense grief she feels inspires her to fight for change in honor of her daughter.
In the heart-wrenching conclusion to her letter, Lori says she'll remember every detail of last Valentine's Day forever. "I wish I could take all the bullets for you," she writes. "It's been a year since I saw you. You, in that black and white dress, those Converse on your feet, and that smile. I'll never forget that smile. It feels like yesterday. I just want you back. Love forever, Mom."
Make Our Schools Safe is a national non-profit organization dedicated to protecting students and teachers at school. Lori and her husband, Ilan Alhadeff, founded the organization shortly after losing Alyssa. According to the organization's website, their mission is to improve the safety of schools, research and test best practices, as well as implement those protocols by creating model schools, beginning in South Florida and spreading nationwide.
"Parkland's shooting did not have to happen," the site reads. "We are here to take action, protecting schools so it never happens again. With passion and persistence, it can be done. Children should thrive in classrooms, not fear for their lives. The time has come to make schools safe!"