A State Report On The Parkland Shooting Suggests Arming Teachers As A Response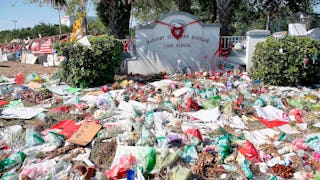 Image via RHONA WISE/AFP/Getty Images)
The final state report on the Parkland shooting says arming teachers will keep future kids safe
The one-year anniversary of the massacre in Parkland, Florida, that left 17 dead is fast approaching, and a state commission appointed to investigate the shooting has just released its final report. The 458-page report actually suggests arming teachers as a way to keep kids safe from a similar shooting in the future. Ugh.
The Marjory Stoneman Douglas High School Public Safety Commission, made up of 15 people including parents of some of the victims, just approved the final version of the report, in which they unanimously agreed that elected officials haven't taken enough action to keep students safe in Florida.
"Even after the MSDHS shooting and the implementation of new Florida law requiring certain safety measures, there remains noncompliance and a lack of urgency to enact basic safety principles in Florida's K-12 schools," they wrote. "There must be a sense of urgency — and there is not, across the board — in enhancing school safety."
Pinellas County Sheriff Bob Gualtieri, the chair of the commission, delivered the report's findings at a press conference Wednesday. He was visibly upset as he took officials to task for their lack of action in the aftermath of one of the deadliest school shootings in U.S. history.
"You can't teach dead kids. They need to take this seriously and they need to get off the mark and move the needle and they need to fix this," he said. "People need to stop playing games with this. This is serious stuff. There has to be a will to change the way we are doing business."
It's unfortunate that the report, which is so scathing about the lack of action to prevent school shootings in the U.S., also recommends arming educators in Florida. Teachers across the country have largely spoken out against the idea of carrying guns in their classrooms, arguing that it will make students less safe, not more.
History tells us, though, that this report won't change a thing. We've seen school shooting after school shooting happen without meaningful action from lawmakers. If they can watch kids die without enacting change, this report won't even cause them to bat an eye.