Parkland Student Peter Wang Honored By The Military After Dying A Hero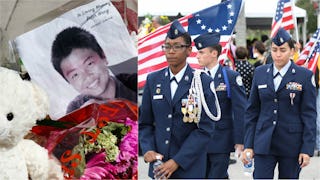 Image via RHONA WISE/AFP/Getty Images/Joe Raedle/Getty Images
Peter Wang, who dreamed of being a soldier, was posthumously admitted to West Point
Peter Wang is a hero. There's absolutely no denying that. The 15-year-old Marjory Stoneman Douglas High School student was a member of the Junior Reserve Officers' Training Corps (JROTC) and dreamed of joining the military. He never got the chance, but he's a hero nonetheless. Wang was among the 17 killed at last week's shooting at his school, shot as he held open a door so his classmates could escape.
Now, he's being honored with what he always dreamed of. At Wang's funeral on Tuesday, a uniformed army officer hand-delivered a letter to the teen's grieving family, informing them that he had been posthumously accepted to the U.S. Military Academy at West Point, "for his heroic actions on Feb. 14, 2018," as he was buried in his JROTC uniform.
Florida Governor Rick Scott also ordered the state's National Guard to honor Wang, along with 14-year-old Alaina Petty and 14-year-old Martin Duque, two other JROTC members who were killed in the shooting.
At Wang's funeral, his classmates told news outlets how they remembered Wang.
"He was like a brother to me and possibly one of the kindest people I ever met," longtime friend Xi Chen told NBC Miami. Classmate Jared Burns added, "For as long as we remember him, he is a hero."
Wang's dream was to become a soldier, and a petition circled after his death, calling for him to be buried with full military honors.
"Wang died a hero, and deserves to be treated as such, and deserves a full honors military burial," it stated. As of Tuesday, the day of his funeral, the petition had over 70,000 signatures, 30,000 short of the 100,000 required to get the White House to respond. Still, Wang's funeral was emotional, as friends and relatives wept over his open casket.
While Wang was denied the chance to pursue his dreams, his classmates are working hard to ensure no more children face gun violence in their schools. The Parkland shooting survivors are the organizers behind the March For Our Lives, a March 24 nationwide march to demand gun control action from Congress.