Parkland Students Use Platform To Shine Light On Students Of Color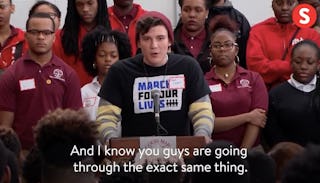 Image via Splinter/The Root
Stoneman Douglas students spent time with students of color at Thurgood Marshall Academy, calling for unification against gun violence
Yesterday, one day before embarking on the March for Our Lives in Washington, D.C., survivors of the Parkland shooting visited a local D.C. high school with one mission: to unite with students of color who aren't heard or given the same privileges.
Some of the Parkland students stood before a podium to verbally acknowledge the privilege offered to white people in terms of media coverage. They wanted to make it clear that students of color deserve to have their voices heard, too.
"I know you guys are going through the exact same thing. You just don't have the platform," Marjory Stoneman Douglas student Alfonso Calderon said. "People aren't listening to you."
Parkland advocate David Hogg acknowledged the media bias. Addressing the crowd at Thurgood Marshall Academy, Hogg said, "Many of these communities are disproportionately affected by gun violence, but they don't get the same share of media attention that we do."
He's right. At the Urban Gun Violence Town Hall in Atlanta earlier this week, black students spoke out about how the Parkland media attention makes them feel. "Parkland, it was a tragedy," 18-year-old Shatony Rivers, a high school senior said. "But we have the same situation going on in our hood every day. And we don't get the same response from media, officials or government."
It's admirable for the Parkland students to take their spotlight and shine it on students of color who deserve to be heard. Students at Thurgood Marshall, for instance, have lost two students to gun violence this year alone.
"I no longer get to go home and be a normal kid," Calderon said. "And I know you guys are going through the exact same thing. You just don't have the platform. People aren't listening to you."
Lauryn Renford, a student at Thurgood Marshall, also addressed the crowd, calling for unification. "It is the shared grief of our loved ones that we stand united in this call to action." Fellow Thurgood Marshall students mentioned how hard they've been trying to get government officials to listen to their calls for change. Says Jamaya Hodge: "Because we live in a low-income area, and we live in D.C., where we're not represented by anybody, they feel as though our voices shouldn't be heard."
It is indeed unfortunate that a school shooting in Parkland, a city with a median household income of $107,000, is what is finally giving attention and a platform to communities who have suffered with gun violence for decades. Gun violence leads to unspeakable tragedy for any community, no doubt. But it's wonderful that the Parkland students are using their privilege for good.
This article was originally published on