Survivors Of The Parkland Shooting Are On This Month's 'Time' Cover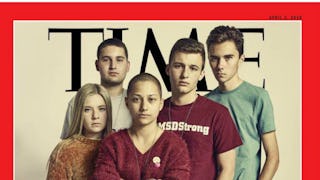 Image via Time
The Parkland student activists are on the cover of Time magazine
Is anyone other than me in tears constantly from watching high school kids organize their world takeover? Since last month's horrific shooting at Marjory Stoneman Douglas High School in Parkland, Florida, the kids are leading a revolution to end gun violence in their schools, and I seriously can't get enough of watching them do it. My heart swells with pride at basically everything they do. These kids are going to make the world a better place, and they're getting the huge recognition they deserve.
And they truly are getting worldwide attention for their work. The National School Walkout drew headlines all over the country, and this weekend's March For Our Lives is expected to draw record-breaking turnout from teens, their families and their supporters in all 50 states. Ahead of that, the Parkland survivors who are organizing the march have become household names, and this month, they're on the cover of Time.
The. Cover. Of. Time.
These kids are demanding we adults take them seriously, so we are. We're taking them so seriously, they're on the cover of freaking Time. This could actually be the movement that ends our epidemic of school shootings.
The cover features Emma González, Cameron Kasky, Alex Wind, David Hogg, and Jaclyn Corin, all looking solemn and powerful as they promise to turn 18 and vote out every asshole who values NRA donations more than their literal lives. It features the word "Enough" in bold, white letters, and refers to the current classes of high schoolers as "the school shooting generation."
Let that sink in. That's what this generation is known for. The only comfort we can find in that label is how hard they're fighting to change it. And the internet is so here for this.
These kids are the future and they're so inspiring. You can march alongside them this weekend by finding the March For Our Lives event closest to you. Just don't forget to stock up on tissues, because it's going to be a damn emotional day.