Parkland Teens Just Launched A Summer Tour To Register Voters
by Christina Marfice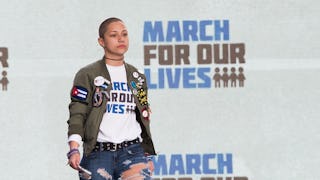 Image via Noam Galai/WireImage
The Road to Change bus tour will promote gun reform and register young voters
As if the survivors of the Parkland, Florida school shooting haven't had their young lives disrupted enough, several of them are now giving up their summers to continue to fight for gun reform that will protect students from experiencing what they did.
Yep, instead of having part-time jobs scooping ice cream or life guarding, instead of heading to the beach or pool with their friends and instead of staying out late to make memories and enjoy the warm summer nights — you know, things high schoolers are supposed to do during summer break — they're going on a bus tour called Road To Change to promote gun reform and sign up new voters across the country. Seriously, bless them. They continue to step up and do the work that should be done by adults. Since we can't handle this, they continue to, and it's heartwarming and heartbreaking at the same time.
Current Marjory Stoneman Douglas High School students Emma Gonzalez, Jaclyn Corin, Cameron Kasky, and recent graduates David Hogg and Delaney Tarr will be the ones going on tour. They all survived the Feb. 14 massacre that left 17 of their classmates and teachers dead.
They'll be on the road for 60 days, traveling to 20 states and making 75 total stops. The first stop will be on June 15 in Chicago, where the group will join the annual Peace March before they depart to cross the country and try to register enough young voters to vote out a Congress that sits back and watches them die. At the end of the tour, the Parkland teens will make more than 25 special stops in Florida, where they'll speak in every single on of the state's congressional districts.
"We're going to places where the NRA has bought and paid for politicians who refuse to take simple steps to save our lives — and we'll be visiting a number of communities that have been affected by gun violence to meet fellow survivors and use our voices to amplify theirs," the March for Our Lives website notes. "At each stop, we'll register young people to vote and educate them on the reforms we need to save lives, and whether their local candidates and elected officials support these reforms or support the NRA."
Despite the fact that no kid should have to spend their summer break doing something like this, the Parkland students and alumni all seem pretty excited about it.
Here's hoping the so-called adults start listening soon.