Parkland Students Dedicated A Whole Yearbook Page To Their Therapy Dogs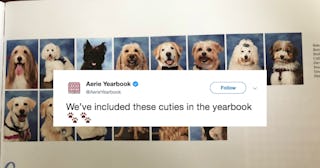 Aerie Yearbook/Twitter
If anyone deserves an entire yearbook page, it's these good boys and girls in Parkland
Students at Marjory Stoneman Douglas High School in Parkland, Florida truly deserve to feel safe and comfortable at school. They survived one of the most horrific and deadly school shootings in U.S. history, and in the aftermath, they had an entire army of service and therapy dogs to help them get through their school days. Now, the students have shown their gratitude for those sweet puppers by dedicating an entire yearbook page to them.
The dogs are all listed with their names, just like hooman students. They include Gail Policella, Sophie Levy, Annie Sultenfuss, River Haneski and Grace Goodwill (who has her own Instagram that you should definitely follow if you don't already). Schooner Davis even got to wear a very dapper bow tie to have his portrait shot, and he is officially the best boy (alongside all these other pups, who are all the best boys and girls).
Back in October, one student tweeted out a quick video of Schooner posing for his official school portrait. He got to pose with his little feets on the foot marker they had for human kids, and it is just so pure.
The photo of the dogs' yearbook page went viral pretty quickly, obviously, because it is so sweet. People on Twitter loved that the dogs are being included in the yearbook, and said they could feel the calming power of these special puppers right through their screens.
https://twitter.com/jetpack/status/1128767937047945217
https://twitter.com/jetpack/status/1128833420598104064
But there were others who realized the darker side of this story.
Obviously, it's heartbreaking that a school even needs an entire page of service and therapy dogs to help its kids cope with trauma. What happened in Parkland was truly horrific, and those kids don't deserve to have to deal with the aftermath of surviving a school shooting. No kids do.
But the dogs have been a huge help to them, and this yearbook page is a beautiful way to commemorate the relationships the kids have built with their pupper classmates over the last year. One of the dogs, a yellow lab named Chief, even posed for a photo with his yearbook, inviting students to come and sign it.
This is a sweet story. But it should get us talking about how no school should need 14 service and therapy dogs to help its students cope with trauma and PTSD after a school shooting. We need to have a conversation about the care and support kids need after they survive a school shooting, especially in the wake of two Parkland students' suicides this year. And it should get us talking about the fact that numbers of mass shootings, in schools and elsewhere, continue to rise in the U.S. Our politicians continue to do nothing to stop kids from being killed at school, a place where they should be safe. We have to do better for our kids.
Giving these students therapy dogs is great. But it would be better if the kids in Parkland never needed any. That's what we should be working toward.