'Parks And Rec' Cast Reuniting Again For A 'Town Hall' Election Special
by Madison Vanderberg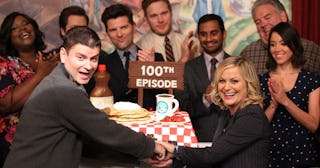 JB Lacroix/WireImage
The Parks and Recreation cast is reuniting again to help get Joe Biden elected
What did we ever do to deserve not one, but two (TWO!) Parks And Recreation reunions in 2020? Clearly sensing our desperate need for something nostalgic and joyful, the cast of Parks and Recreation has decided to get together again online and this time they're doing it to help get Trump out of office.
Sorry not sorry to all the "stick to acting and stay out of politics" types, but Adam Scott, Aubrey Plaza, Amy Poehler, Nick Offerman, Jim O'Heir, Retta, and show creator Michael Schur are getting together online for a special "Parks and Recreation Town Hall" in support of the Democratic Party of Wisconsin. Not only did Leslie Knope crush hard on Joe Biden (the Presidential hopeful was also famously in an episode), but Wisconsin is one of several crucial battleground states in the upcoming presidential election and to get access to the live stream of the "town hall" you just need to make a donation of any size to the Democratic Party of Wisconsin. So this is an important fundraiser for America's future, and also a very big deal for Leslie Knope, who I'm sure, is devastated by the current state of the union.
"PUBLIC NOTICE: Parks & Rec will be holding a Town Hall meeting THURSDAY, September 17 at 8PM," the Democratic Party of Wisconsin wrote on Instagram.
https://www.instagram.com/p/CFDIqcPnWEA/
The one-hour live-stream starts at 8 p.m. CT on Thursday, September 17, 2020. Unclear if this is a reunion for the actors or if they will be in character as their Pawnee selves, either way, we're into it. The one-hour special is set to include a Q&A and you can even submit questions for the cast.
The gang reunited for a special Zoom-themed episode back in April where they did a sort of where-are-they-now as the employees of Pawnee's beloved parks and recreation department grappled with the pandemic and not being able to see their coworkers and friends all the time. Not surprisingly, Ron Swanson was thriving in quarantine. That reunion episode was also a fundraiser for Feeding America's COVID-19 Response Fund because this civic-minded crew of actors-portraying-politicians actually know how to unite the country.
Who better to help flip Wisconsin blue then the cast of your favorite comedy about good-hearted politicians and public servants?