New Video Challenges United's Claim That David Dao Was 'Belligerent'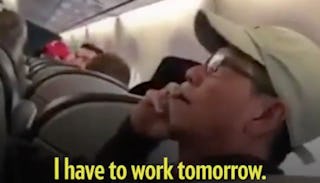 Image via Instagram
New footage shows he was calm and polite before being dragged off the plane
New video has surfaced of the moments before passenger Dr. David Dao was violently removed from United flight 3411. It's proving a stark contrast to the embattled airline's claim that Dao's difficult behavior necessitated forceful removal from the flight.
United Airlines can't seem to catch a break lately, but maybe that's because they can't get their facts straight. United CEO Oscar Munoz said in an email to his employees that agents were "left with no choice" but to drag Dao off the plane as his refusal to leave required such action. In that same email, he claims the passenger was "disruptive and belligerent."
If by "disruptive and belligerent" Munoz actually meant reasonable, polite and dignified, then OK. Maybe he's right.
In a video shared by fellow passenger Joya Cummings we see a very different version of events than the one United is claiming occurred. In a calm and measured tone, Dao tells agents, "I'm a physician. I have to work tomorrow at 8 o'clock…No, I am not going. I am not going."
Belligerent, eh? Hardly.
As the interaction continues, Dao eventually says, "Then drag me down. I am staying right there."
Sure enough, they did — injuring him severely in the process. Dao lost two teeth, suffered a concussion and a broken nose as a result of the agents' actions. All for politely stating that he wouldn't vacate the seat he rightfully paid for.
Cummings took to Facebook to further explain what she saw saying Dao was "no more "irate or belligerent" than any weary passenger after a long day of travel would be." She writes, "He just wanted to go home, had to work the next day and did not feel it was right to have to give up his seat, a seat he was already sitting in upon the plane."
She ends her post with a plea for things to improve. "The more the videos of the flight play, the more my heart breaks for Dr. Dao and our community as a whole. Things must change. America, we can and must do better."
We can. And thanks to the vigilance of his fellow passengers, there's proof of how events really played out. Hopefully, it means justice will be served.