Patagonia Is Donating Its $10 Million Trump Tax Cut To Combat Climate Change
by Christina Marfice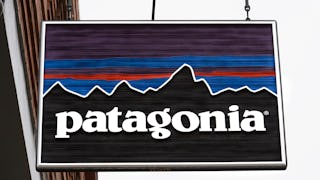 Image via Robert Alexander/Getty Images
Patagonia is one company that truly practices the sustainability it preaches
Anyone who's paying attention to the state of our planet and the impending climate change disaster pretty much wants to scream from the rooftops, "Why aren't you idiots doing anything about this?!" A global summit earlier this year found that our planet is heading for irreversible doom in as little as a few decades if we don't rein in climate change, and no one seems to care how dire this really is. One of the few organizations that does care, and has the dollars to make a difference, is Patagonia.
The outdoor company's CEO, Rose Marcario, posted an open letter on LinkedIn, announcing that every cent of the $10 million tax cut Patagonia received under Trump's new tax policies will be donated to organizations fighting climate change.
"Based on last year's irresponsible tax cut, Patagonia will owe less in taxes this year—$10 million less, in fact," she wrote. "Instead of putting the money back into our business, we're responding by putting $10 million back into the planet. Our home planet needs it more than we do."
The letter continued, "Our home planet is facing its greatest crisis because of human-caused climate disruption. All the extra heat we've trapped in the earth's atmosphere is not only melting the poles and raising sea levels, it's intensifying drought and accelerating the extinction of species."
Marcario went on to call out Trump and his administration for focusing its time and attention on unneeded tax cuts for the wealthy and corporations, and ignoring dire warnings about taking care of the Earth.
"We have always paid our fair share of federal and state taxes," she wrote. "Being a responsible company means paying your taxes in proportion to your success and supporting your state and federal governments, which in turn contribute to the health and well-being of civil society. Taxes fund our important public services, our first responders and our democratic institutions. Taxes protect the most vulnerable in our society, our public lands and other life-giving resources. In spite of this, the Trump administration initiated a corporate tax cut, threatening these services at the expense of our planet."
She ended the letter by encouraging others to contribute to fighting climate change.
"We recognize that our planet is in peril. We are committing all $10 million to groups committed to protecting air, land and water and finding solutions to the climate crisis," she wrote. "In this season of giving, we are giving away this tax cut to the planet, our only home, which needs it now more than ever."
Patagonia has always been a company that practiced what it preached as far as enjoying and protecting the outdoors. In 1985, it enacted its 1% for the Planet program, which pledges 1 percent of all the company's sales for preservation and sustainability causes. To date, the program has raised more than $89 million.
They're absolutely committed and all companies should be doing exactly this.
The planet needs us to act now. If we can follow the lead of a major company like Patagonia, maybe we can spur enough action to stop climate change in its tracks.