Republicans' Reactions To Pete Buttigieg's Paternity Leave Are Enraging
by Lindsay Wolf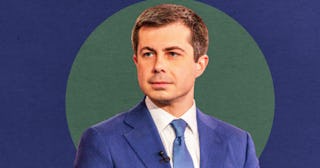 Scary Mommy and Joseph Sohm/Shutterstock
When I gave birth to my second child, my husband got two measly paid days off to be with me. Paternity leave wasn't a concept they were aware of.
Two days to be with his wife and family during what had been a tremendously difficult year. Two days off before he went back to his grueling job and long work hours, leaving me to spend full days with our three-year-old toddler and the brand-new baby we had just taken home from the NICU. Two days that he ultimately had to make up by promising to put in extra hours at his job.
Two fucking days.
What I would have given to have had him with me for an uninterrupted six weeks of paid paternity leave. Because caring for tiny babies is an unpaid job that requires a village, and the days often feel like running a marathon that never seems to end. Especially when one of those parents is healing and recovering from childbirth. Which is exactly why parental leave should never be considered some lofty privilege for a few cis hetero women. It is a necessary and legal right, and an employee of any gender should never be penalized or harassed for taking it.
In an ideal world, every American would support the United States finally jumping on board with a bunch of other countries that have already instituted paid parental leave. But we don't live in an ideal world. We live in a world with people like Tucker freaking Carlson. Tucker Carlson is the living embodiment of weaponized incompetence, along with every other Republican who has joined in his recent smear campaign.
In my brutally honest opinion, TC has got to be one of the most revolting high school bullies to ever exist in an adult body. And that's saying a lot, considering how much of a racist, bigoted train wreck our former president is. Last week, Carlson targeted a brand-new father-of-two you may know. And he's not the only gutless Republican who decided to show up for Halloween as a troll.
Transportation Secretary Pete Buttigieg, who also happens to be the first openly gay member of Congress, temporarily stepped away from his White House duties to take paid paternity leave in August, as he and his hubby Chasten recently became fathers to newborn twins. The dads shared a heartwarming post on Instagram about the event, complete with a black-and-white photo of their new family-of-four. And let me just say, this picture is so stinkin' cute that I cannot handle it.
It could have — and should have — ended with this sweet moment, and I honestly wish it had. But leave it to Tucker Carlson to storm in and crash a party he was never invited to.
"Pete Buttigieg has been on leave from his job since August after adopting a child," Carlson said on his Fox News show. "Paternity leave, they call it, trying to figure out how to breastfeed. No word on how that went."
In other words, Carlson has memorized all of his homophobic zingers from 9th grade and is enough of a horse-and-pony-show con to keep using them.
You'd think that Fox News, upon receiving so much criticism for their golden child's abhorrent behavior, would have piped up to make some kind of a statement. But, it seems they've been too busy providing employees like Fox & Friends co-host Todd Pirowith six weeks of paid paternity leave, while simultaneously allowing bigotry and gender bias to reign supreme. I'm not going to drag you through the mud of every other shitty opinion that Republicans have spouted about Pete Buttigieg's choice to take his leave. Let's just say that these straight folks sure do love to share how hot under the collar they get upon seeing an LGBTQIA+ individual living their life.
And god forbid we allow all parents to take time off to do the real live work (yes, work!) — of caring for their entirely dependent newborn babies — babies that either grow up to be inspiring human beings like Pete Buttigieg or hateful pains in the ass like Tucker Carlson.
As a queer mom, I'm not surprised by this nasty behavior — religious right-wing politicians and commentators love nothing more than to publicly get their panties all in a twist over anything that makes them uncomfy. Carlson has had far too much airtime vomiting up baseless vitriol on television while he's legally allowed to do so. And while he continues to belittle parents like Pete Buttigieg and stir up unnecessary drama, not a single Republican seems to be doing anything bold enough to stop him. If anything, they have only bolstered his cult-like fanbase with their like-minded comments and their silence during times like this.
Bullying someone at any age sucks, and Pete B. deserves so much better. All parents do — regardless of our sexual identity or gender.