Broadway Actress From 'Frozen' Cancels Performance Due To 'Massive Anxiety Attack'
by Cassandra Stone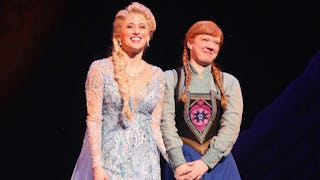 Image via Bruce Glikas/Bruce Glikas/WireImage
Patti Murin cancels performance due to 'massive anxiety attack'
In an inspiring Instagram post, Broadway's Patti Murin — also known as Anna in Frozen: The Musical, which recently made its big debut — opened up about mental health. Particularly, anxiety. You know, that awful, ever-present beast that so many of us are intimately familiar with and have to cope with in our daily lives.
Murin says she had to call out of a show because of a "massive anxiety attack."
She says her anxiety had been steadily building up, and the pressure and success of the show started to take a toll on her mental health. "I've learned that these situations aren't something to 'deal with' or 'push through,'" she writes. "Anxiety and depression are real diseases that affect so many of us. It requires a lot of rest and self-care to heal every time it becomes more than I can handle in my daily life."
Frankly, it's amazing and incredibly courageous of Murin to be so candid about her struggles with anxiety. A lot of people may not realize that Broadway actors are performing eight shows per week, cramming in two shows some of those days, and only have one day off. The sheer amount of mental and physical energy that goes into a single performance can be completely draining. And that's not counting press engagements, post-show meet-and-greets, brush-up rehearsals, pre-show prep, and all the other components that are a regular part of having a Broadway career.
Murin is playing a lead role in what's probably already one of the most in-demand shows in Broadway history. It's no wonder she needs a little timeout.
"While I hate missing the show for any reason at all, Disney has been nothing but supportive of me as I navigate my life and work, and I'm so grateful to them," she says. "Just remember that you're not alone, your feelings are real, and this is not your fault."
Her fellow Broadway colleagues and plenty of others are offering support and words of encouragement for Murin.
https://twitter.com/jetpack/status/986689531297460224https://twitter.com/jetpack/status/986634216145375232
Mary Kate Morris, who's currently playing the role of Elphaba in the touring production of Wicked (she is fanfuckingtastic by the way), knows a thing or two about being part of an incredibly popular show and how exhausting it can be — mentally and emotionally.
Knowing yourself well enough to know you need a break for your mental health is crucial in coping with conditions like anxiety and depression. No one should ever feel guilty about needing to take time to feel better — whether it's to just take a breather, seek therapy, or any other form of treatment.
This post in particular is extra important because it proves anxiety doesn't discriminate. You can be a literal Disney princess and performing your dream job and still struggle. There's nothing shameful about it; it's part of the human condition.
Like Murin says, "Even Disney princesses are terrified sometimes."