Patton Oswalt Pens Heartbreaking Essay About Single Parenting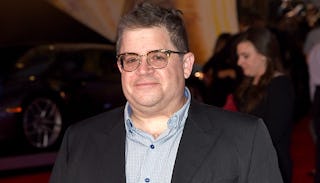 Image via Kevin Winter/Getty Images
Patton Oswalt pays tribute to his late wife and talks about life as a single father in powerful essay
Five months ago, Michelle McNamara died unexpectedly, leaving behind husband, comedian Patton Oswalt, and their young daughter. Oswalt has retreated from his career over the course of the last year, but he's remained remarkably clear-headed, and painfully open, about his family's new reality.
He candidly describes the sad realities of parenting without his wife in a recent essay he wrote for GQ
In the December issue of the men's magazine, Oswalt lays out the struggles of being a widowed, single parent. He uses his prodigious sense of humor and trademark pop culture references to nail the difficulties of single fatherhood, and the pain of doing it in the aftermath of tragedy.
"It feels like a walk-on character is being asked to carry an epic film after the star has been wiped from the screen. Imagine Frances McDormand dying in the first act of Fargo and her dim-bulb patrol partner—the one who can't recognize dealer plates—has to bring William H. Macy to justice."
In the essay, which is brutal both for its honesty and for how little leeway he gives himself, the comedian goes well past self-deprecation, describing himself as, "the grunt, office assistant, instruction follower, and urban Sherpa" in he and McNamara's parenting unit. But somehow, the comedian never ventures into self-pity. Because despite how challenging it is, despite how inadequate he feels, he knows he has no choice. His 7-year-old daughter Alice needs him, and so he perseveres.
"I can't do it. I can't do it. I can't do it. I want to tune out the world and hide under the covers and never leave my house again and send our daughter, Alice, off to live with her cousins in Chicago, because they won't screw her up the way I know I will. Somebody help me! I can't. I can't. I can't."
It's a refrain familiar to parents everywhere, single or not, widower or not. Parenting is the hardest thing you can't ever stop doing. We all do our best under unique circumstances, we all have our own challenges, our own specific circumstances that make our version of the job different from anyone else's. And we all keep finding ways to get by, for our kids.
So does Patton.
"I'm moving forward—clumsily, stupidly, blindly—because of the kind of person Alice is. She's got so much of Michelle in her. And Michelle was living her life moving forward. And she took me forward with her. Just like I know Alice will. So I'm going to keep moving forward. So I can be there with you if you need me, Alice."
He spends a lot of time praising his late wife, and by all accounts she was an accomplished writer, a wonderful person, and a terrific mother. As her husband writes, "I was half of an amazing parenting team, except we weren't equals." Like so many of us, when we're feeling overwhelmed by this parenting gig, even in its easiest moments, Oswalt can be cold-blooded in his assessment of his shortcomings.
"I've missed forms for school. I've forgotten to stock the fridge with food she likes. I've run out of socks for her. I've run out of socks for me."
What I hope he'll remember, what I hope we can all remember – in fact, what it's clear he's tying his best to convince himself of- is that the result doesn't matter nearly as much as the effort. Reading Patton's dispatches from his tragically altered life, it seems to me that he's doing just fine. And you probably are too.