Patton Oswalt's 7-Year-Old Daughter: 'When Your Mom Dies, You're The Best Memory Of Her'
by Ashley Austrew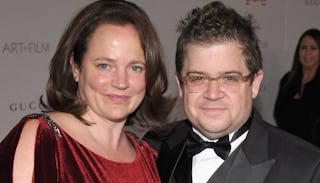 Image via John Shearer/Getty
Patton Oswalt's daughter had some moving things to say about her mom, Michelle McNamara
Nothing ever prepares you to lose someone you love, and when it happens unexpectedly, the grief, sorrow, and anger can be overwhelming. It's difficult to make sense of your emotions in the face of a sudden loss, and that's why this recent quote by comedian Patton Oswalt's seven-year-old daughter following her mother's unexpected passing is so moving.
Oswalt has been understandably quiet on social media since his wife, Michelle McNamara, passed away in her sleep just over a week ago. McNamara, a beloved true crime writer, was just 46 years old, and Oswalt's publicist says her death came as "a complete shock to her family and friends, who loved her dearly."
The couple married in 2005 and welcomed daughter, Alice, in 2009. On Sunday, Oswalt shared Alice's insightful and beautiful sentiment regarding her mother's memory. "When your mom dies, you're the best memory of her," the little girl told her dad. "Everything you do is a memory of her."
It's one of those quotes that rips your heart out with how vulnerable, wise, and beautiful it is, and it's a stunning testament to this little girl's bravery and strength as she faces an unthinkable loss. As difficult as it is for adults to process the grief that comes with losing someone you love, especially when it's one of your parents, one can hardly imagine how it feels to go through it as a small child.
I was in middle school when my uncle died unexpectedly. We had a very special bond, and he was the closest thing to a father figure I've ever had. To this day, I feel his presence in so many of my thoughts and things I do. He's there in every milestone, every event I wish I could tell him about, and every time I sit down to write (he was a writer too), but even as an adult I probably couldn't explain his impact on me or my lingering emotions surrounding his death as succinctly as Alice has explained how her mother will live on through her forever.
In the days since McNamara's passing, Oswalt has retweeted a small number of heartfelt tributes to her life, including sharing his own, in which he wrote, "She wrote lines that stung and hummed. 13 years in her presence was happily humbling." He also tweeted a link to donate to an organization dedicated to nurturing kids in the craft of writing — something to honor his wife's memory.
Of all the words shared about McNamara since her passing, Alice's are the most touching. They're a reminder that while her mother's death will certainly impact her every day going forward, her mother's life had an equal, if not more powerful impact. As Alice put it, she is the best memory of her mother's strength, intelligence, and grace, and Michelle McNamara will continue to touch the world through the wise and incredible child she's left behind.