Patton Oswalt Helps Raise 33K -- For Medical Bills Of Man Who Was Trolling Him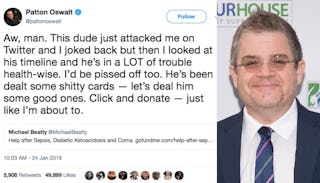 Image via Twitter/Patton Oswalt/Tara Ziemba/Getty Images
Patton Oswalt responded with kindness when a man trolled him on Twitter
Here's an unusually uplifting, positive Twitter story to brighten your day. A man named Michael Beatty tweeted Patton Oswalt some mean comments and the actor responded by checking out his Twitter page, finding out that he had medical struggles, and then helped pay his bills. Beatty was overwhelmed with gratitude and the exchange will make you believe that there's some goodness left in the world.
It all started when Beatty responded to one of Oswalt's tweets about Donald Trump, writing: "I just realized why I was so happy you died in Blade Trinity!" and "You shoot basketball ike [sic] the sawed off little man you are."
Oswalt decided to take a very different route in response. "Aw, man. This dude just attacked me on Twitter and I joked back but then I looked at his timeline and he's in a LOT of trouble health-wise. I'd be pissed off too," the actor tweeted. "He's been dealt some shitty cards – let's deal him some good ones. Click and donate – just like I'm about to."
People immediately applauded Oswalt for his positive, kind response and there was lots and lots of Twitter love going around.
https://twitter.com/jetpack/status/1088500386397343745
Oswalt shared Beatty's GoFundMe, which explained that he suffered from Sepsis and Diabetic Ketoacidosis, and was struggling to pay his hospital bills. "Two weeks in hospital with Sepsis/DKA and coded twice," he wrote. "Long recovery along with massive medical costs. I have a meager retirement check. I'm a Vietnam veteran."
Oswalt's Twitter followers responded to the actor's call-to-action big time. Beatty's original goal was to raise $5,000 and – as of Friday afternoon – people had donated a staggering $33,592. This incredible show of kindness, both on the part of Oswalt and his Twitter followers, floored Beatty. He took to Twitter to send a massive thank you to the actor.
"Patton. You have humbled me to the point where I can barely compose my words," Beatty wrote. "You have caused me to take pause and reflect on how harmful words from my mouth could result in such an outpouring. Thank you for this and I will pass this on to my cousin who needs help. A cascade."
He also sent out a separate message to all of the strangers who had shown him so much generosity.
"I want to thank everyone who came to my aid with generous outpourings- and also to @pattonoswalt without whom I would not be the recipient of so much love and support," he tweeted. "I'm not a man who ever cries but I had to wait to send this. And to quote Stuart on Big Bang 'meat tonight'!"
Oswalt responded by suggesting that Beatty return all of this kindness by helping out people in any way that he can. "If you want to pay this forward, maybe find a GoFundMe for a furloughed government worker who's feeling the pinch? Or make a big-ass haul o' goodies to your local food bank? Something? Anything?" he wrote.
He also had a great joke. Of course.
Three cheers to Patton Oswalt and a whole lot of Twitter users who just made someone's life so, so much better. More stories like this, please.