Paul Rudd Says He Humiliated Himself On The Set Of 'Friends' And It's So Paul Rudd
by Sarah Bregel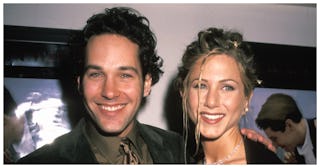 Ron Galella/Getty
Paul Rudd reveals that when he was on the set on Friends, he embarrassed himself more than once
Paul Rudd wasn't on Friends for all that long, but he was totally a memorable character. He played "Mike" who Joey ended up introducing to Phoebe after he forgot to find her a blind date. He told her that that was the name of her date, then walked into the coffee house calling out "MIKE?" just to see if anyone turned up. Mike answered, "yeah?" and the rest was history.
While we loved Paul Rudd's character onscreen for being so quirky and downright hilarious and helping Phoebe get the dream wedding she didn't know she wanted, when the actor came on the set of the already hugely successful sitcom, he made an impact with the other actors, too. However, in his newbie awkwardness, it wasn't always the best one. He just revealed in an interview on The Graham Norton Show, that a couple of the times he really screwed up. And it is… well, it's very Paul Rudd.
On his very first day on set, he actually messed up so badly he worried he was going to get fired. And maybe he should've been! Though, the series wouldn't have been quite the same. He explained the horrible moment on the talk show. "I was on the set for my first episode and Jennifer was on a Segway because she had broken her toe, and everyone was marveling at it," he said. "Matt LeBlanc asked to have a go and immediately knew how to do it." He went on, "I then asked to try it, too. I spun round and rolled it right over Jennifer's foot!"
OUCH. Talk about an embarrassing first day on the job. Luckily, hurting poor Rachel, didn't get him kicked off and they both recovered.
Still, it wouldn't be the last time Rudd caused a ruckus on the set. On the very last day of filming, when the stars were super emotional, Paul tried to ease the tension. Again, it was Aniston who was the victim of the awkward encounter. "I was on the sound stage and Jennifer Aniston was crying and I thought, 'I'm not supposed to be here', so to break the ice I went over and said, 'Well, we did it, what a ride.' The joke inevitably fell flat!" he told the talk show host.
You can almost perfectly visualize the interaction. Paul smiling and tossing his hands up in the air while Rachel, er, Jennifer scrunches up her nose and says "huh?"
Luckily, Aniston was quick to forgive and the two went on to become good friends. They even starred in a movie together, the hilarious Wanderlust. Oh, Paul. Please never change. At least, according to everyone on the internet who brought the whole "Paul Rudd doesn't age" thing to our attention (because he actually looks the same as he did in his Clueless days), he never will.
This article was originally published on