A 'PAW Patrol' Movie Is In The Works And Hits Theaters Next Year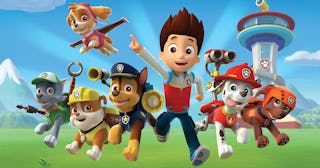 Nickelodeon
When firedog Marshall, police pup Chase, construction canine Rubble, handy-dog Rocky, water-rescuer Zuma, and fearless Skye first hit our TV screens in 2013, the PAW Patrol obsession among young Nickelodeon viewers kicked into overdrive in record time. Kids across America — and beyond — would soon live by words that "no job is too big; no pup is too small" and that teamwork truly makes the dream work, especially among a group of six rescue dogs. Now, seven years later, the canine heroes led by their tech-savvy leader Ryder will hit the big screen. (Is the theme song already stuck in your head, too?)
Arriving in theaters August 2021, Paramount film PAW Patrol: The Movie will be directed by animation vet Cal Brunker (whose credits include Nut Job 2: Nutty by Nature and Escape From Planet Earth), according to Variety.
"We are thrilled to partner with Paramount and Nickelodeon to bring the PAW Patrol franchise and the characters that children love to the big screen," Spin Master Entertainment Executive Vice President Jennifer Dodge told the publication.
Variety also reports that this film is the first of a number of feature films in the works by Spin Master's entertainment division, a move that Dodge calls "a significant strategic expansion for Spin Master Entertainment" and its properties. "This demonstrates our commitment to harnessing our own internal entertainment production teams to develop and deliver IP in a motion picture format and allows us to connect our characters to fans through shared theatrical experiences," she added.
Brian Robbins, president of ViacomCBS Domestic Media Networks' kids and family entertainment division, said that adapting PAW Patrol for the big screen is a "major milestone" and that they "can't wait for kids and families everywhere to experience it together."
Needless to say, fans of the show, including parents, are excited for the release.
https://twitter.com/jetpack/status/1230896307297976320
In short, PAW Patrol tells the tale of a Ryder, a young boy who leads a crew of search and rescue dogs to protect Adventure Bay. Through their adventures, the group teaches kids all about empathy, responsibility, kindness, and that when there's trouble, there are always people around who can help.
Since its premiere, the show has become a worldwide success, now appearing on televisions in more than 160 countries speaking more than 30 languages. PAW Patrol was also the most-watched television show for preschoolers in 2018, according to Nielsen. And, according to Viacom, the show has generated more than $7 billion in global retail sales.
"I have not seen anything like this in preschool in all of my years," Pam Kaufman, Viacom's president of global consumer products, told Bloomberg in 2018. "It's a global phenomenon."
No word yet on the plot of PAW Patrol: The Movie, so we'll just have to keep our eyes peeled for updates.