After A Devastating Diagnosis, This Family Created A Foundation To Fight Cancer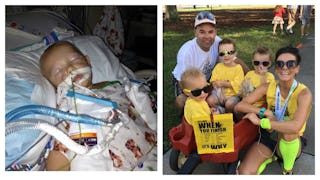 Melissa Wiggins
After their 20-month-old son was diagnosed with neuroblastoma, Melissa and Michael Wiggins faced the unimaginable. Not only were they facing an uncertain future, they also had to navigate the horrific reality of childhood cancer treatment. But the couple didn't just bemoan the shortcomings of pediatric cancer treatment, they set out to do something about it. They launched Cannonball Kids' cancer Foundation in 2014, and since then, they have funded $300,000 worth of clinical trials in search of treatments that cause less pain and suffering for kids battling cancer.
The Wiggins family's journey with pediatric cancer began when mom Melissa took her 20-month-old son, Cannon, to the pediatrician after he started limping. The doctor didn't think much of it, but after Cannon reverted back to crawling, the parents took him to see an orthopedic specialist who suspected an infection in his leg. They went to the hospital, expecting emergency surgery to remove it, but many hours of anticipation later, the specialist said, "I don't think your son has a bone infection. I think he has neuroblastoma."
Melissa asked what that was, and the doctor uttered the dreadful words "cancerous tumors." She dropped the phone, walked out of the room, and gasped for air in disbelief and overwhelming pain. In an instant, the blissful bubble she lived in with her happy and healthy family popped, and the cancer that would consume their lives emerged.
The next day, the suspicion was confirmed. Cannon was diagnosed with stage IV neuroblastoma, which means the tumor spread into his lymph nodes and other parts of his body. This isn't uncommon, as cancer has already spread by the time of diagnosis in 80% of children. After staying awake all night researching, Melissa knew this stage came with a poor prognosis, and she whispered, "He's not going to die, is he?"
The doctor said their child had a 50/50 chance of survival, and a long, hard fight ahead of him. Melissa and Michael Wiggins saw hope in those odds and embarked on the battle beside their toddler.
The Wiggins trusted their son would beat the cancer that ravaged his little body, and they gave him everything necessary for the process, including chemotherapy, surgeries, stem cell transplants, radiation, and antibody therapy. While they were grateful for excellent physicians and facilities, the treatment options themselves were limited. Cannon spent the year receiving therapies that left him weak, pale, and in horrific pain.
Michael Wiggins, Cannon's dad, wrote in Thankful for the Fight, "I nearly shake in anger and my eyes well up when I see my son suffering, yet again, from an IV needle that has to come out and has to be replaced, or his nausea from receiving multiple medications, or his eyes rolling back from so much morphine to shut off some of the pain, or when I contemplate the fact that he has not eaten a single crumb since Sunday night because he feels too ill to do so, or I see him stumble on his feet because his legs have no strength after lying in bed listlessly for days."
While every procedure and therapy offers a fighting chance, they also come with their own life-altering (and sometimes life-threatening) side effects. The diluted chemotherapy drugs their son received are really designed for adults. They're so harsh that Cannon's hearing has been permanently impaired and all his teeth decayed. He'll never grow to full height and will never be able to have his own children. Although this is all secondary to his life, the Wiggins felt helpless watching their son be tormented in an effort to save him.
"I will drive to APHC on Sunday night to admit him with that miserable hole-in-my-stomach feeling," Michael Wiggins said as he prepared to bring Cannon to antibody therapy. "I know what his reaction will be when I put him in the stroller to go up to the fourth floor for the week — crying and that look to me of, 'Why, Dad?'"
Melissa and Michael Wiggins watched their son bleed from the inside out and heard his continuous screams despite all the pain medication. They knew there must be another way, so they committed themselves to finding it. The Wiggins started Cannonball Kids' cancer (CKc) shortly thereafter, having experienced firsthand the need for more innovative treatment options for pediatric cancer. Their goals are to raise awareness of the fact that children with cancer are, for the most part, not being treated effectively, and to raise money to fund research to change that.
According to childcancer.org, 1 in 330 children will be diagnosed with cancer before the age of 19. Cancer is the No. 1 killer of children, and more kids die from it than cystic fibrosis, congenital birth defects, asthma, diabetes, and AIDS combined. Yet only 1 cent for every dollar of public support goes to childhood cancer research, which is less than 4% of the cancer research budget.
"It simply isn't fair that only three cancer medications in that last 20 years have been specifically approved for children, and we're working to change that," Melissa told me when we met to talk about her family's work with the foundation.
CKc has funded five clinical trials since its birth three years ago, in search of treatment options designed specifically for children, so they will suffer less and enjoy a better quality of life. The initial trial was a first-in-children immunotherapy trial, which has the potential to impact how brain and other childhood cancers are treated in the future. Dr. Theodore Johnson, the grant recipient at Georgia Regents University explains, "Immunotherapy treats cancer by enlisting the body's own immune system to specifically seek out cancer cells and eliminate them, ideally leaving normal tissue undamaged. Immunotherapy is more natural and potentially less toxic than 'high-dose' chemotherapy, and it is likely to work better in children because their underlying immune systems are stronger than adult immune systems. Funding from organizations like CKc is critical to advancing innovative immunotherapy research in children."
The second trial funded by CKc was the Emmi Grace Applesauce Trial. Emmi was a 5-month-old with brain cancer whose only treatment option was cisplatin, a drug designed in 1965 for male testicular cancer. Emmi's parents couldn't find a single trial for ATRT brain cancer for children under the age of 3 because, so often, they have to swallow horse-sized pills that babies aren't capable of consuming. Emmi Grace Applesauce Trial allowed researchers to test the efficiency of a trial drug via apple sauce, giving hope and options to even the youngest fighters.
The organization also funded another immunotheraphy trial in July 2016 that involved an unprecedented stem cell transplant component. In it, participating patients are treated with a stem cell transplant, using cells collected from one of their parents. The cells from the parent are prepared in a new way that allows helpful immune cells to be transplanted along with the stem cells to help fight infection and kill remaining cancer cells. Also, the cells that cause graft-versus-host disease and other terrible transplant-related reactions are removed, making the transplant safer and less painful for the children.
CKc also funded a trial for DIPG (diffuse intrinsic pontine glioma), a pediatric cancer with zero long-term survivors. The trial is the first of its kind in the U.S. and uses a HDAC inhibitor drug called Panobinostat, which determines which genes turn on and off. This treatment optimizes direct delivery of the drugs to the whole tumor between the cells. The drug has a promising outlook for treatment of DIPG, and the goal is to create more hope for other brain cancers with this new approach.
Dr. Mario Otto, an oncologist and grant recipient at University of Wisconsin-Madison Carbone Cancer Center says, "We are very grateful and humbled for the support of our clinical study by CKc. They understand the lack of sufficient funding for pediatric clinical cancer trials slows us down in finding new and better, less toxic treatments for kids with cancer, and CKc has decided to tackle this terrible situation."
After 14 months of fighting, Cannon Wiggins became cancer-free, but without being able to unsee the horrors of pediatric cancer, this has become the work of his parents' lifetime. Despite the sadness that surrounds the topic, the Wiggins family is a voice of inspiration. CKc started as two broken-hearted parents with a vision for change, and has since grown into a team that has given hope to 40 children who were out of options otherwise. Their devotion to children with cancer and their determination to find better treatments have set the stage for the development of encouraging new options.
"Yes, it's true, Cannon is where this started, but he is not where this story will end," Melissa Wiggins said. "I am in this now, and I am in this all my days. It's in my soul. It's my mission, my life. No matter where my son's story ends, this is only the beginning."
This article was originally published on