Pediatric Surgeon Calls For Better Gun Control In This Eye-Opening Plea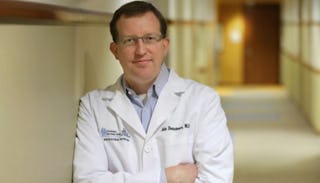 Image via Facebook
A pediatrician decided that treating gunshot victims wasn't enough, so now he tries to prevent gunshots
John Densmore has seen more tragedy in his career as a pediatric surgeon and associate professor at Medical College of Wisconsin than most of us combined, and you might expect someone in his position to distance themselves from it all, as a survival method.
Instead, in the aftermath of one particularly tragic incident, Densmore decided to work even harder. Hearing him discuss the challenges, and the impact, of gun violence is heartbreaking.
Two years ago, Densmore was involved in the surgery of a one-year-old who was shot two days after Christmas. If you had to double-check that it says "one-year-old," you're not alone. The doctor himself initially thought it was a mistake as well.
He was no stranger to treating children with gunshot wounds, but never one so young. In an article in the Milwaukee Journal Sentinel details the surgeon's efforts to save young Bill Thao, and the emotional toll the ultimately unsuccessful attempts took on him and his staff.
"A place like Children's is not a sterile box where the injured go and they either make it or they don't. There are people, human beings, in that box, making it happen."
As a result of his work, he has become convinced that the gun problem is getting worse – in a four year period from 2012-2016, more than 200 gunshot victims were treated at his hospital – and he has joined efforts to try and curb it.
"It has me feeling, whether or not it's true, that the problem is becoming more exaggerated or, worse, spreading," Densmore said.
He fears what the epidemic of gun violence is doing to his city, and to the country.
"The loss is too great for this city, it's too great for this nation, it's too great for this world," he said.
He has been pushing for more gun control, in Milwaukee and across the country, working with his church to push gun groups to develop smart guns that can only be fired by their owners, and is an advocate of receiving funding for after-school programs, child welfare systems and more. He knows there's no simple solution.
"I know there are already people doing wonderful work; my only plea is more, more," he says. "We need more help. It's not a simple thing, it's many things. And it's expensive."
He also knows there is only so much he can do, and that most of it is after the fact. He's aware of all the socioeconomic factors that contribute to gun violence in a city like Milwaukee, and having treated three patients who returned with second gunshot wounds, he knows more needs to be done to prevent these tragedies.
"I have a lot of hope because that patient has someone who loves him and that's the first step," he said. "If you've got that, then you've got something to work with and then the community needs to figure out ways to support them."
This isn't something that one man can solve by himself, but it's heartening when men as good as John Densmore get involved.