Pediatrician Drops Patients After Negative Facebook Comments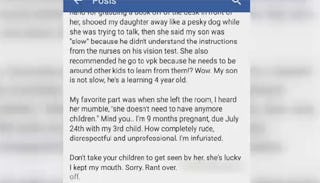 Image via NBC2
Florida pediatrician drops patients after comments from a "private" Facebook group surface
Everyone vents on the internet, it's part of what makes the internet so valuable, and so vicious. Unfortunately, sometimes that venting makes its way to the wrong person, and there are consequences. Some moms in a Facebook group recently found that out the hard way.
According to a story out of Florida, on NBC2, eight moms in what they thought was a private Facebook group were dropped as patients by their pediatrician after one more shared negative details of a recent visit.
Sarah Rubio posted a message about a bad experience at Island Coast Pediatrics, where she'd been taking her kids for seven years, and was promptly dropped from the practice's patient roster, along with several other moms who commented on Rubio's post.
"I would like other mothers to know what we're all going through because of what we posted. An honest review turned out to be a disaster," said Rubio. "I just stated my honest experience with one doctor, one time."
There are thousands of members of the closed Facebook group "Supportive Moms of SWFL" and it seems one of them may be a rat. Jocefina Echeveste and Kate Fustafson were two of several moms who commented on Rubio' post and soon received a letter from Island Coast pediatrics that read "We find it necessary to inform you that Island Coast Pediatrics is withdrawing further medical care for your family… This decision is final and will not be discussed further or reversed under any circumstances."
On one hand, these ladies probably should have known that what happens on the internet rarely stays on the internet. The term "private" has little meaning when something is posted online, one need only look at the ongoing presidential election to see that.
Facebook is filled with groups where participants share gossip and sob stories, particularly in the parenting community. "Safe" places where moms and dads can rant and rave and vent about a restaurant that banned kids, or a play date that went awry. If business started monitoring those and then dumping every parent whose ever been disgruntled online, they'd run out of customers in a hurry.
I get that doctors offices probably aren't used to the Yelp treatment, but they've certainly been on the internet before and should probably have been prepared. Someone took to Facebook to whine about customer service? Color me shocked. Apparently this doctor's office was shocked, and their childish response will probably backfire.
Social media dust-ups don't usually make the news, but thanks to Island Coastal Pediatrics' overreaction, this one did. And now this thin-skinned group of doctors is going to get a lot more negative commentary than they seem to be able to handle.
NBC-2.com WBBH News for Fort Myers, Cape Coral & Naples, Florida
This article was originally published on