The Healing Power Of A Pedicure Should Not Be Underestimated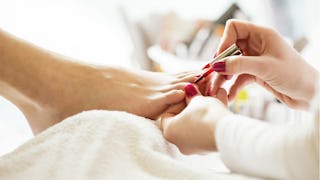 Dragan Grkic/Shutterstock
I got my first pedicure about 10 years ago, and why I waited until I was 35 years old to experience that peak level of self-care luxury is beyond me.
Truth be told, I was a little grossed out by both the idea that a strange person would be rubbing my feet and the less than ideal condition that said feet were actually in at the time. After four pregnancies in nine years, I couldn't remember a time when I was physically able to look down and see my toes and not a swollen belly. I also couldn't fathom having a kid-free hour of time available to me where I was the sole center of attention and recipient of pampering — and my feet were the star of the show. I mean, do people actually look forward to having their toenails clipped, buffed, and polished by someone whom they've never met before?
The answer is: Hell yeah, they do! And after that first dip of my own tired tootsies in hot bubbling water that smelled like lavender, eucalyptus, and cotton candy all rolled into one, I was hooked. Bring on the pedicures, baby, because they restore my tired, battered soul.
The simple self-loving gesture of receiving a pedicure has been around for centuries. And I mean literally, centuries. The first recorded manicures date back well over 3,000 years ago to the Babylonian and Egyptian empires where carvings in a pharaoh's tomb often depicted royalty having their fingernails and toenails manicured. Nowadays, pedicures are hardly restricted to royalty, as it seems almost every strip plaza and mall in suburbia boasts a nail salon, but you will feel like a queen while you're getting one.
They are also a very affordable luxury, with the average pedicure costing around $25. I bet you're paying $5 for a cup of coffee you suck down in two minutes, so why not shell out a few more bucks and sit back and relax in a vibrating massage chair while someone makes your digits look dazzling?
If you need more of an incentive to treat yourself, there are actual magical healing qualities in a pedicure. And I'm not just talking about how you go in with toenails that look like you've just hiked the Pacific Crest Trail barefoot and leave looking like an OPI toenail model. I'm talking about the actual physical and mental health and wellness benefits from this ancient tradition. Aside from the fact that it's summer and there's an excellent chance you need red sparkly (and un-chipped nails) to be peeking out of your wedge sandals, your overall health can actually benefit from a pedicure.
Typical pedicures come with a foot and leg massage, which not only stimulates circulation in your feet, but also touches on (literally) important reflexology points on your feet. Massage applied to these points can reduce anxiety and is proven to soothe and give you a deep state of relaxation. It can even help with back pain and metabolism. Yes, you get your feet rubbed and your body gets a little help digesting that frappé. Win-win.
Any callous removal that takes place during your pedicure isn't just for a perfect appearance in flip-flops, it also prevents uneven distribution of weight on pressure points on your feet. Toenails that are thoroughly and regularly clipped do not become ingrown, and even corns, blisters, and blackened nails can be reduced by frequent trips to the nail salon.
There are basically countless reasons why a pedicure is a great idea, but I bet the average mom isn't thinking about any of those things when she leans back in that leather massage chair and props up her gams to be lotion-ed down. And she shouldn't be!
Moms, you worry and obsess enough about everyone's else's well-being, and this is why you need to take baby steps back into the world of self-care and a pedicure is a damn good way to start.
Grab your mom friends and hit up the nail salon ASAP. Then, after, take your new toes and go flip-flop shopping. Even if you can only splurge on a pedicure once in a blue moon, it's so very, very worth it.
And if you've never had one, what the foot are you waiting for?