Peeps Cereal Exists And Sounds Utterly Disgusting -- Your Kids Will Def Want It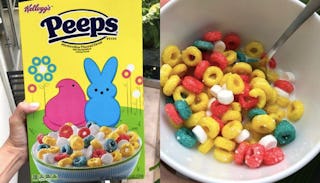 Image via Instagram/Munchie Bunchie
Target has Peeps Cereal just in time for Easter and OMG, it sounds gross
We love Target so much which is why the feelings we're having right now are a bit unsettling. It seems they're selling Peeps Cereal in time for the Easter season (which in Retail Land, means even before Valentine's Day) and it looks and sounds completely gross.
We'll let you be the judge. Or your kids.
Ever just thought, "WTF, might as well feed my kids literal candy for breakfast?" Do you feel like your stale Peeps could use a side dish this spring? Is super brightly colored food a thing you're into? If so, have we got the product for you. This new Peeps Cereal is reportedly "marshmallow flavored" and produces an immediate whiff of vanilla upon opening the box.
Snack and candy-focused Instagram account Munchie Bunchie has the low-down — and it sounds very much like something that would make my tongue itch. "If you look closely you can see those white dots that look very similar to oreo os! In fact, I'm pretty sure these are golden oreo os! Slightly smaller and of course some blue and pink ones and marshmallows but other then that… golden oreo os. They have that same exact vanilla sugary taste! Super sweet but super yummy," they write.
If you're into very sweet things, maybe this will be the best news you hear today — if not, we guarantee your kids will definitely be begging for it on your next Target run. It's brightly colored, tastes like candy, and has adorable Peeps right on the box.
All part of a balanced breakfast, right?
I mean, the milk is very nutritive and stuff. It's fine. Everything is fine.
https://www.instagram.com/p/BsqXA5PBtKZ/?utm_source=ig_embed
If this sounds like a thing you might buy so your kids at least eat something before school, get thyself to Target — the place that holds all the things we need (and don't need.)
This article was originally published on